Western Cape and Cape Town Things To Do
Categories: Wine Tours & Tasting
Price group: On Request (see other things to do in this price group)
Available in the following region(s): Cape Winelands
Address: R44, Stellenbosch, Cape Winelands, Western Cape
Telephone: +27 (0)21 884-4656
Opening hours: Monday to Friday from 09h00 to 17h00.
Saturday from 09h00 to 14h00.
Public Holidays from 10h00 to 16h00.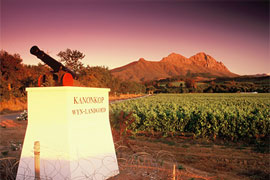 JW Sauer originally bought Kanonkop. At the time, he was a cabinet member in the parliament of the Union of South Africa. His grand-daughter Mary Sauer inherited the estate and together with her husband, bottled their first wine in 1973. To this day, there are 54 men and women who contribute to making this estate what it is and reside on the farm. This is an estate well known for its red wines. Pinotage constitutes 50% of all plantings, whilst the Cabernet Sauvignon 35%, Merlot 7.5% and Cabernet franc make up the rest.

It's best for locals to visit outside of tourist season where you'll find assistants in the tasting room have great knowledge and enthusiasm about the wines. Cellar master, Abrie Beeslaar, knows how to coax the best from the local grape. The vintage Paul Sauer wins many awards, so this is perhaps one that you would like to try. Beeslaar walked away with International Winemaker of the Year at the International Wine and Spirits Competition in London in 2008 and openly boasts about the Kanonkop Black Label. With only 1000 bottles made available, he maintained that those buying it will have just as big an honour as those making it.

To view more wine estates in the region see Bottelary Hills Wine Estates or see South Africa Wine Estates for a general overview and links to other wine producing regions.
Why Not Overnight?
Find Accommodation in Stellenbosch
Situated amongst vineyards, in beautifully landscaped gardens with spectacular mountain views, this is where space comes in abundance, choices are ...
A thatched B&B guest house which combines modern design with African atmosphere. Awake each morning to a gourmet breakfast that is served alongside ...
Related Pages
Travelling to Stellenbosch
• Stellenbosch Attractions
• Cape Winelands Accommodation
• Western Cape Hotels
• Western Cape Accommodation
• South Africa Accommodation
• Cape Town Accommodation