Things To Do in Kalk Bay

JAPS Carpets

Where? 19 On Main Street, Kalk Bay, Cape Town

When? Open most days a week. Please phone to confirm.

How? Call +27 (0)82 300-3136

How much? Price on request

Overnight? Stay at accommodation in Kalk Bay, in Western Cape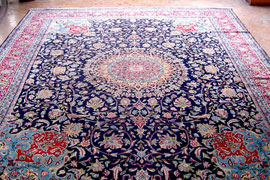 JAPS (Joanne's antique Persians) is a tiny shop at the entrance of 19-on-Main-Bistro on the 'St. James' side of Kalk Bay, opposite Kalk Bay Theatre. Joanne specializes in selling worn Persians and Kelims, well-known amongst interior decorators across the country.
Joanne's stock changes daily as she sells carpets and receives new stock. Her exquisite taste and knowledge of quality and carpet value, have made her the most popular antique carpet shop in Cape Town. She manages to keep a wide range of carpets stored in her tiny shop, which she lovingly attends to. Joanne also sells a few vintage furniture pieces from time to time, including retro kitchen units, dining chairs and tables.
When Joanne is not out sourcing carpets, she can be found in her store, which opens most days a week. To be sure that she is going to be open, give her a call to confirm!