Western Cape and Cape Town Things To Do
Indulge in a Tasting at Eagles Nest (Constantia)
Categories: Wine Tours & Tasting
Price group: On Request (see other things to do in this price group)
Available in the following region(s): Constantia Valley / Southern Suburbs
Address: Old Constantia Main Road, Constantia, Cape Town
Telephone: +27 (0)21 683-0487
Opening hours: Monday to Sunday from 10h00 tp 16h30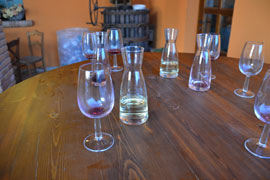 The Eagles Nest Vineyard prides itself in both consistency and quality. They have a unique terrori (for non wine buffs that means that the climate, geology and geography of their vineyards all have special characteristics which in turn make their wine unique).

The land was purchased in 1984, however a devastating fire in 2000 destroyed the majority of the farm, but luckily left the historic buildings alone. It was after this that the family decided to plant vineyards, seeing as they were indeed part of the famed Constantia Valley. The estate has won numerous awards which of which their Viognier 2009 was a 5 Star nominee for 2011 Platter Wine Guide, Gold, Veritas 2010. Come and discover this beautiful, young vineyard and all of the magic it has to offer. This should be a stop on your Constantia Winelands tour!

To view more wine estates in the region see Constantia Wine Estates or see South Africa Wine Estates for a general overview and links to other wine producing regions.
Why Not Overnight?
Find Accommodation in Constantia
A stylishly modern guest house offering you a home away from home in the lush surrounds of Constantia, Cape Town. Luxury en-suite rooms, a ...
Wild Peach Cottage is a private, spacious and secure two bedroom self-catering and self-contained cottage, situated in Constantia, a leafy and ...
Related Pages
Travelling to Constantia
• Constantia Attractions
• Constantia Bed & Breakfast
• Constantia Valley Attractions
• Visitorial - I ♥ Constantia because...