Western Cape and Cape Town Things To Do
Hiking in Matroosberg Nature Reserve (Ceres)
Categories: Hiking Trails / Sports & Leisure
Price group: R1 to R100 per person (see other things to do in this price group)
Available in the following region(s): Breede River Valley
Address: Matroosberg Nature Reserve, 35km east of Ceres
Telephone: +27 (0)23 312-2282 or +27 (0)82 453-9841
Opening hours: Day visitors are required to pay a R50 entrance fee.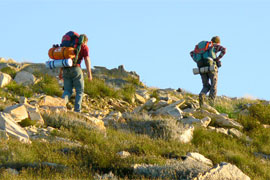 Hike in the Matroosberg Nature Reserve, 35 km's east of Ceres. The trail is approximately 13 km up the Matroosberg Mountain, running along the 4x4/ mountain safari route that reaches the Matroosberg Peak. The Hiking Trail starts at 1250m above sea level and takes you up to the Matroosberg Peak at 2249m. It is a clear trail that has been used by the Ski Club since 1929. The trail can be done in 8 to 10 hours.

Camping on the mountain is permitted with prior arrangement. You do not have to go up the mountain, there is a fair amount of other trails (lower down) that will take you pass some amazing rock formations and rock pools.

The Matroosberg Hiking Trail is situated within the Matroosberg Nature Reserve and is situated about 13 kilometres up the incline of the mountain. The trail follows the mountain safari and 4 x 4 routes that extend right to the peak of the mountain. As the highest peak in the Boland, this is an impressive 2 247 metres high.
Why Not Overnight?
Find Accommodation in Ceres
Rhodene is a working fruit farm and offers luxury self-catering accommodation which overlooks the fertile Ceres valley and is situated at the foot of ...
Inverdoorn is located in a malaria free zone, 2 ½ hours drive from Cape Town. Our game reserve includes 29 different species of animal including ...
Related Pages
Travelling to Ceres