Western Cape and Cape Town Things To Do
Heart of Cape Town Museum (Observatory)
Categories: Museums
Price group: R101 to R200 per person (see other things to do in this price group)
Available in the following region(s): Southern Suburbs
Stay Overnight: See Observatory accommodation, in Western Cape
Address: Groote Schuur Hospital, Observatory, Cape Town.
Telephone: +27 (0)21 404-1967
Opening hours: Monday to Saturday, Tours every 2 hours (on the hour).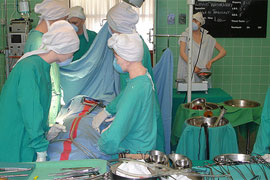 The steady beat of your own heart will escort you to the Heart of Cape Town Museum where the worlds first ever human heart transplant was performed. Touring the museum where actual global medical history took place runs a subconscious soundtrack of a beeping electrocardiogram (ECG) through your mind.

The race of international cardio specialists to be first in this ground breaking surgery is documented in detail with the late South African Professor Christiaan Barnard winning life for Louis Washkansky who was the first recipient of another human heart, on site in 1967. A life-size silicone model of Dr. Christiaan Barnard in his own suit symbolises the man at his original desk in his perfectly reconstructed office. Tribute to the heart donor Denise Darvall is paid through a personal presentation of her everyday life, giving an identity to the transplanted organ of life. The actual donor and recipient hearts are on display.

Headed by the Western Cape Provincial Health Department, Groote Schuur Hospital is internationally acclaimed teaching and training facility where over 500 heart transplants have been performed since the first. The places of the original medical team are taken by modelled mannequins in the original operating theatres presented in their identical operating state having taking over 5 years to track down the exact furniture and equipment.

Milestones are exhibited in the Museums individual display sections; Intro Room, Accident Room, Animal Lab (research). All involved in this medical breakthrough pioneered in the heart of the Mother City are commemorated at this over R4 000 000 investment museum. Auditorium documentaries are screened and optional organ donor registration is facilitated.
Why Not Overnight?
Find Accommodation in Observatory
Koornhoop Manor House is an owner-run guest house in the suburb of Observatory, Cape Town, just below Devil's Peak as it runs down to the Liesbeek River. Koornhoop Manor House offers Bed & Breakfast accommodation and self catering apartments ...
Riverview Lodge is a large Victorian guest lodge in trendy, historical Observatory. It provides affordable accommodation in a charmingly decorated, spacious old Victorian building and has a cozy home from home atmosphere. It is very centrally situated in ...
Related Pages
Travelling to Observatory
• Observatory Attractions
• Observatory Things to Do
• Observatory Accommodation
• Observatory Guest Houses
• Cape Town Attractions