Western Cape and Cape Town Things To Do
Franschhoek Wine Bus (Franschhoek)
Categories: Sight Seeing / Wine Tours & Tasting
Price group: R501 to R1000 per person (see other things to do in this price group)
Available in the following region(s): Cape Winelands
Address: Rickety Bridge Winery, Franschhoek, Cape Winelands
Telephone: +27 (0)21 859-1989
Opening hours: Daily at 09h30 and 14h00. Booking advised.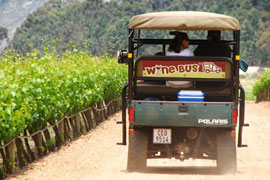 This is a three hour trip on the Wine Bus that will take you through vineyards, forest and orchards. A maximum of ten people are permitted on the tour which begins at Rickety Bridge Wine Estate and heads up to Matoppie. The view from the top of the mountains is breathtaking and from this height you are given a bird's eye view of the Berg River Dam and surrounding Wemmerhoek Mountains. Drinks and snacks are served at the top of the mountain before the bus continues down the southern side to stop off at another wine tasting and vineyard tours.
Why Not Overnight?
Find Accommodation in Franschhoek
Realou Franschhoek is located right in the middle of Franschhoek Village. One of Franschhoek oldest houses (1868), this historical monument has been ...
This stylish country retreat, in the beautiful Franschhoek Valley, is tucked away on an historic wine and fruit farm. Surrounded by magnificent ...
Related Pages
Travelling to Franschhoek
• Things to Do in Franschhoek
• Franschhoek Attractions
• Franschhoek Hotels
• Cape Winelands Hotels