Western Cape and Cape Town Things To Do
Evita se Perron (Darling)
Categories: Miscellaneous / Nightlife & Theatre
Price group: R1 to R100 per person (see other things to do in this price group)
Available in the following region(s): Cape West Coast / Swartland
Address: Evita se Perron, Darling Station, Darling, Western Cape.
Telephone: +27 (0)22 492-3930
Opening hours: Box Office is open for bookings Tuesday to Sunday from 09h00 to 17h00 only.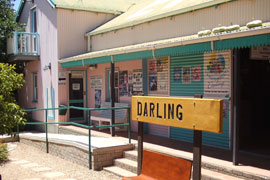 It is virtually a sacrilege, if anywhere in the vicinity of Darling (and why wouldn't you visit the pretty, quaint little town with its many attractions just an hour's drive from Cape Town on the R27?), not to visit Evita se Perron - something of an institution, and the home of Evita Bezuidenhout, more fondly known as Tannie Evita, the nemesis of Pieter-Dirk Uys.

It is nothing short of genius that the country's most famous white woman, and best babotie maker, has chosen a town with the name of 'Darling' in which to reside. Evita se Perron is at the old Darling railway station, and is a combination of a theatre that seats 80, a restaurant-bar in the form of Perron number 2, Evita se kombuis (kitchen), which offers a selection of boerekos (traditional 'farmers' food) with a twist, and Bambi's Berlin bar - the only wine bar in the world to offer Evita Blanc, Evita Noir and Evita Amber wines. Oh, and do not forget to pop in to the Bapetikosweti duty free shop or Boerassic Park, a garden in the shadow of huge trees that takes satire to a new level (see photographs of Boerassic Park at Darling Photographs).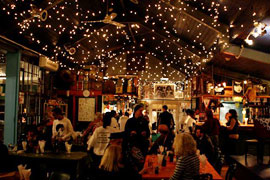 Pieter-Dirk Uys has used a dress to make more than one political point. Evita Bezuidenhout, loved both in South Africa and around the world, has been described as a 'doyenne of political incorrectness' who manages to devastate with his/her unapologetic satire and impersonations of just about everyone from PW Botha to Nelson Mandela.

If you are heading out to Darling for an evening show at Evita se Perron, it might make sense to overnight in one of the many "Darling accommodation" offerings, and to stop off at one of the Darling wine farms en route.
Why Not Overnight?
Find Accommodation in Darling
Darling Lodge is a beautifully restored Victorian home, an oasis of peace and tranquillity in the middle of Darling, surrounded by enchanting hills ...
Aloe Cottage is a luxury self-catering cottage with magnificent views over Darling's rolling hills and farmlands to the distant mountains. The ...
Related Pages
Travelling to Darling
• Darling Attractions
• Things to Do in Darling
• Darling Wild Flower Show