Northern Cape Things To Do
Orange River Wine Cellars (Upington)
Categories: Wine Tours & Tasting
Price group: On Request (see other things to do in this price group)
Available in the following region(s): Green Kalahari
Address: Orange River Wine Cellars, Upington, Northern Cape, South Africa
Telephone: +27 (0)54 337-8800
Opening hours: Cellar Tours (January-March) on Monday to Friday at 09h00, 11h00 and 15h00.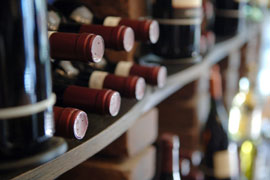 Our wines are renowned for their healthy colours and distinctive aromatic and flavour properties, all of which are inherited from the prevailing terroir conditions, enhanced by avant garde cellar technology.

Great emphasis is placed on delivering complex, fruit-driven wines, immediately accessible, easily drinkable, and consumer friendly. Within every portfolio of wines there are some variants which can also be bottle matured for varying periods of time. In addition, oak treatment is at times employed through stave and/or barrel wood application to add judiciously to the flavour personality of the selected wines.
Why Not Overnight?
Find Accommodation in Upington
Sun River Kalahari Lodge is a home away from home, situated in the heart of the Green Kalahari, stretched over five properties, on the banks of the ...
This stylish Victorian House, with antique furniture, offers the weary traveller a safe and peaceful night's rest in luxurious or economy self ...
Related Pages
Travelling to Upington
• Upington Attractions
• Upington Hotels
• Northern Cape Accommodation
• Northern Cape Hotels
• South Africa Accommodation