Mpumalanga Things To Do
Visit the Botanical Garden (Nelspruit)
Categories: Parks & Gardens / Wheelchair Friendly
Price group: R1 to R100 per person (see other things to do in this price group)
Available in the following region(s): Lowveld Legogote
Address: Off White River Road, Nelspruit, Mpumalanga.
Telephone: +27 (0)13 752-5531
Opening hours: September to March from 08h00 to 18h00 and April to August from 08h00 to 17h00 .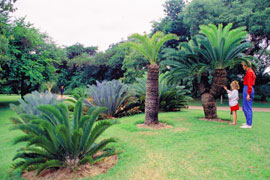 The Lowveld Botanical Garden is all about the two rivers that run through it; that fashion the garden with a unique quality of its own. The Crocodile River enters the garden with a tremendous rush, gushing through a narrow, pot-holed solid rock gorge, whilst its counterpart, the Nels River, cascades down a waterfall from the west - the two content to merge in a somewhat more gentle pool.

The river banks are dominated by evergreen forest belts, and the eastern bank of the Crocodile River is a tropical African rainforest, representative of the rapidly diminishing rain forests in central and west Africa, and a world first for the Lowveld Garden.
Website:
http://www.sa-venues.com/attractionsmpl/lowveld-botanical-garden.htm
Why Not Overnight?
Find Accommodation in Nelspruit
Tarentaal Oorslaap is a 3-star graded Bed & Breakfast, situated in the beautiful Ntulo Wildlife Estate only 3km from Nelspruit on the Kaapschehoop ...
La Villa Vita or 'The Villa Life' is an elegant Tuscan mansion with high ceilings, stone walls and complete facilities appointed with the finest ...
Related Pages
Travelling to Nelspruit