Mpumalanga Things To Do
Visit Chimpanzee Eden (Nelspruit)
Categories: Animal Sanctuaries / Wheelchair Friendly
Price group: On Request (see other things to do in this price group)
Available in the following region(s): Lowveld Legogote
Stay Overnight: See Nelspruit accommodation, in Mpumalanga
Address: Chimpanzee Eden, Umhloti Nature Reserve, Nelspruit, Mpumalanga
Telephone: +27 13 (0)745-7406
Opening hours: A Guided Chimpanzee Tour is +/- 1,5 hours in duration. Tours are every day at 10h00, 12h00 and 14h00. Feeding times are at 10h00 and 14h00.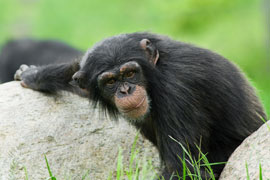 Set on a 1000 hectare game reserve, JGI Chimpanzee Eden is a home to chimpanzees that have been misplaced from their natural habitat. The world renowned Jane Goodall Institute has made this tranquil venue their South African sanctuary and has committed itself to the rescue and care take of chimpanzees in need of refuge.

Being the 1st and only chimpanzee sanctuary in South Africa, this venue will be able to bring the world of chimpanzees closer to humanity through education, tourism and modern technology. Entering the reserve, a mere 15 km from the bustling city of Nelspruit, visitors can expect to be captivated by the beautiful bush surroundings with most of the natural game species roaming the reserve.
Why Not Overnight?
Find Accommodation in Nelspruit
Whether you are visiting the beautiful province of Mpumalanga on business or for more leisurely pursuits, Global Village Guest House is an ideal place for accommodation. The Guest House is situated in the Lowveld heart of Nelspruit, Mpumalanga. It is an exclusive 4 star ...
A magnificently located self-catering apartment, invites you to explore the city of Nelspruit and its surroundings. Conveniently situated within easy reach of restaurants, a shopping mall, hospitals, international airport, Lowveld Botanical Gardens, the Kruger ...
Related Pages
Travelling to Nelspruit
• Nelspruit Attractions
• Nelspruit Hotels
• Nelspruit Accommodation