Mpumalanga Things To Do
Die Groen Koei Coffee Shop (Bethal)
Categories: Cafés & Eateries / Restaurants: Cafés & Coffee Shops
Price group: R1 to R100 per person (see other things to do in this price group)
Available in the following region(s): Cosmos Country
Address: 34 Moses Kotane Street, Bethal, Mpumalanga
Telephone: +27 (0)82 493-7815
Opening hours: Please confirm.
To see more restaurants:
South Africa Restaurants / Mpumalanga Restaurants / Bethal Restaurants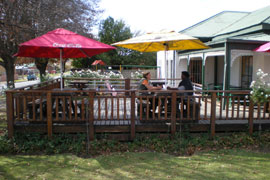 A mural of a cow jumping over the moon will bring a smile to your face and the décor will contribute to a relaxed meal. The menu at Die Groen Koei Coffee Shop offers a variety of delicious light meals such as breakfast, hamburgers, salads, sweet and savoury pancakes, a large choice of coffees and fresh cakes daily.

An open wooden deck with benches and umbrellas invite you to sip something refreshing and watch the world go by. The good food and friendliness will make a lasting impression!
Why Not Overnight?
Find Accommodation in Bethal
This luxurious guest house is situated in the heart of Cosmos Country in Bethal, Mpumalanga and boasts 20 comfortable en suite rooms, all with their ...
Related Pages
Travelling to Bethal
• Bethal Attractions
• Bethal Bed & Breakfast
• Mpumalanga Accommodation