Where? Magoebaskloof
The Limpopo Province in South Africa is one that is abundant in natural splendour, history (even relics and fossils dating back to prehistoric times) and plenty of pure African culture and heritage. ...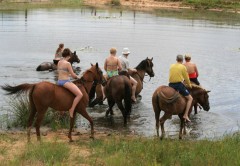 Where? Vaalwater
Horizon Horseback Adventures is a wonderful, varied holiday destination for riders of all abilities. Rides are organised to suit each client. We also run special options for family vacations when we accept ...