KwaZulu Natal Things To Do
Visit the Moth Museum of Militaria (Durban Central)
Categories: Museums
Price group: Free (see other things to do in this price group)
Available in the following region(s): Durban
Stay Overnight: See Durban Central accommodation, in KwaZulu Natal
Address: 1 NMR Avenue, KE Masinga Road (formerly Old Fort), Durban.
Telephone: +27 (0)31 307-3337
Opening hours: Tuesday to Sunday from 11h00 to 15h00.
Saturday from 10h00 to 12h00.
Closed on Mondays and public holidays.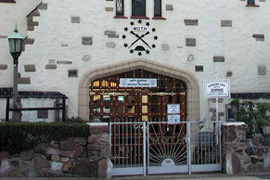 Warriors Gate MOTH Museum of Militaria: The museum was started by World War 1 veterans and is now the international headquarters of the MOTHS organisation. The museum houses a superb collection of medals, badges, battlefield relics, uniforms and other items.

There is also a strong focus on South Africa's involvement during both World Wars. Tours of the museum are available.
Why Not Overnight?
Find Accommodation in Durban Central
Situated in the heart of Durban, The Royal Hotel provides unfailing hospitality by offering butler services to all customers, outside catering and an energetic customer focused team. It boasts a superb range of restaurants and sophistication is the keynote throughout ...
The Riviera Hotel is ideally located for access to Durban CBD, right opposite Durban Bay and within walking distance to Durban's South Beach (approx. 1km). The hotel is a modern, attractively decorated, low budget tourist hotel offering excellent ...
Related Pages
Travelling to Durban Central
• Things to Do in Durban Central
• Durban Central Attractions
• Durban Central Map
• Durban Central Hotels
• Durban Accommodation
• KwaZulu Natal Accommodation