KwaZulu Natal Things To Do
Rickshaw Ride along the Beachfront (Durban Beachfront)
Categories: Sight Seeing
Price group: R1 to R100 per person (see other things to do in this price group)
Available in the following region(s): Durban
Address: Upper Marine Parade, Durban, KwaZulu Natal
Telephone: +27 (0)31 332 5671
Opening hours: From 08h00 to 17h00 daily.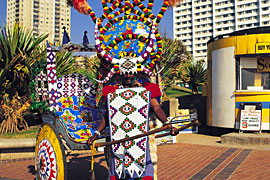 There are only about twenty registered rickshaw-pullers in Durban. They are well known for their magnificent head-dresses adorned with beads and other decorations.

This is a great way to get around and feel like a real tourist. This fleet of 'tuk-tuk' type three-wheelers has augmented public transport in the city and is a wonderful way to see the "Golden Mile", the 6 kilometres of Durban Beachfront.

The Rickshaws are a unique tourist attraction run by the Zulu population and incorporated into their culture. You will also find many locals selling their hand-made crafts along the Rickshaw tour on the beachfront.
Why Not Overnight?
Find Accommodation in Durban Beachfront
The Parade Hotel is a beachfront hotel located on Durban's famous Golden Mile in KwaZulu Natal, South Africa. The Parade Hotel specialises in ...
Summersands 39 is situated in the prime area of the Durban beachfront. The apartment is very central and conveniently located, a mere two minute walk ...
Related Pages
Travelling to Durban Beachfront