KwaZulu Natal Things To Do
Join a Whaling History Tour (Bluff)
Categories: Miscellaneous / Museums
Price group: Price on request (see other things to do in this price group)
Available in the following region(s): Durban
Stay Overnight: See Bluff accommodation, in KwaZulu Natal
Address: Old Whaling Station, Bluff Headlands, Bluff, Durban
Telephone: +27 (0)31 467-9461
Opening hours: Booking is essential.
Tours operate on Tuesdays and Thursdays.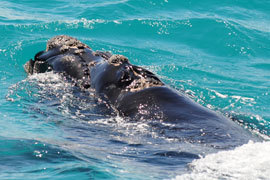 Explore another side of Durban's fascinating history on a whaling tour. The whaling history of Durban started in 1907 when the Norwegian Consol in Durban raised money to start an operation. The operation began with a few steam driven whalers hunting migrating whales off the Natal coast and it went on to become the largest land based whaling operation in the world.

Tours take place in the old whaling station on the Bluff Headlands as well as one of the largest collections of pictures, memorabilia, newspaper clippings and old footage of the whaling days.
Why Not Overnight?
Find Accommodation in Bluff
Run by great people, this intimate place (just 10 minutes from Durban Airport) is ideal for anyone looking for a little time out. Each cabin has air-conditioning and crisp bedding. Step out of your bedroom door and into a gorgeous rock swimming pool or enjoy the soothing waterfall from ...
We cater for all budgets, offering a variety of comfortable, fully equipped self catering units from 2 sleeper to 8 sleeper units set in a tropical garden, as well as a backpackers hostel. Owned and run for many years by a well known surfing family and friendly, helpful staff, a relaxing holiday ...
Related Pages
Travelling to Bluff
• Bluff Attractions
• Bluff Map
• Bluff Accommodation
• Durban Accommodation