KwaZulu Natal Things To Do
Join a Whaling History Tour (Bluff)
Categories: Miscellaneous / Museums
Price group: On Request (see other things to do in this price group)
Available in the following region(s): Durban
Stay Overnight: See accommodation in Bluff, in KwaZulu Natal
Address: Old Whaling Station, Bluff Headlands, Bluff, Durban
Telephone: +27 (0)31 467-9461
Opening hours: Booking is essential.
Tours operate on Tuesdays and Thursdays.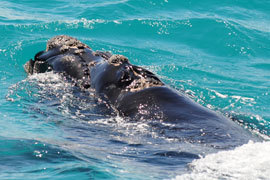 Explore another side of Durban's fascinating history on a whaling tour. The whaling history of Durban started in 1907 when the Norwegian Consol in Durban raised money to start an operation. The operation began with a few steam driven whalers hunting migrating whales off the Natal coast and it went on to become the largest land based whaling operation in the world.

Tours take place in the old whaling station on the Bluff Headlands as well as one of the largest collections of pictures, memorabilia, newspaper clippings and old footage of the whaling days.
Why Not Overnight?
Find Accommodation in Bluff
Accommodation at Chicken Shack is situated south of Durban in the peaceful suburb of the Bluff. We have six spacious log cabins, with two cabins ...
Find a home away from home with friendly accommodation! The White House is situated on a property high up, in Durban's Riviera suburb, with ...
Related Pages
Travelling to Bluff