KwaZulu Natal Things To Do
Ardmore Ceramic Art Studio (Champagne Valley)
Categories: Art Galleries / Arts & Crafts
Price group: Free to Browse (see other things to do in this price group)
Available in the following region(s): Drakensberg
Address: Ardmore Farm D275, Champagne Valley, Central Drakensberg.
Telephone: +27 (0)33 234-4869
Opening hours: Open 7 days a week.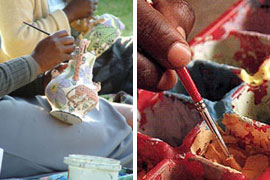 The vibrant ceramics of Ardmore, ranging from functional domestic ware to sculptural art in the decorative African tradition, offer a fine insight into the subtle influences of rural potters at work in the Champagne Valley of KwaZulu Natal. These artists combine the elements of their tribal tradition with the uniquely naive perspective of a new world.

Although the nerve centre of Ardmore has moved to Lavendula in the Natal Midlands, the majority of the artists continue to work on the Ardmore farm near their family homes in the Champagne Valley. On a clear winter day the Zulu artists can be seen enjoining the warm sunshine while painting and finishing their creations against the backdrop of the majestic Champagne Castle in the Drakensberg. Within the original stone cottages, the sculptures and throwers work.
Why Not Overnight?
Find Accommodation in Champagne Valley
Mountain Splendour is a little piece of paradise; tucked away on a small working farm, in the heart of the Champagne Valley in the Central ...
Misty Peaks Villa is located on a private estate called Bergview in the Champagne valley area of the central Drakensberg. The 200 m² villa is a ...
Related Pages
Travelling to Champagne Valley
• Drakensberg Accommodation
• Drakensberg Guest Houses
• Drakensberg Self Catering