Gauteng Things To Do
Visit the Origins Centre (Braamfontein)
Categories: Cultural Sites / Wheelchair Friendly
Price group: R1 to R100 per person (see other things to do in this price group)
Available in the following region(s): Johannesburg
Address: Cnr Yale & Enoch Sontonga, Wits University, Braamfontein, Johannesburg.
Telephone: +27 (0)11 717-4700
Opening hours: Open Monday to Saturday from 09h00 to 17h00. Closed Sundays and Public Holidays.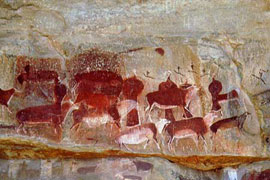 Explore your origins at The Origins Centre at Wits. The newest heritage resource in South Africa, this is one of the finest learning centres and home to Khoi San Rock Art in the world. It is also a facility where you explore the origins of humans in Africa and peek into the fascinating world of the earliest humans. A minimum of two hours is needed to 'Explore your Origins'.

At the Origins Centre visitors can See the earliest image made by man, found here in South Africa; Take an 80,000 year journey to the present in search of the art and culture that has inspired and motivated humans in their search for innovation and modernity and Trace their genetic make up through DNA and find out who they really are. The average museum experience lasts from between 90 minutes to 2 hours, but for the enthusiast, there is an unsurpassed (and continuously growing) wealth of extra multi-media material on Africa's past.

Audio guides come with the price of admission and are available in six languages - Zulu, Sotho, English, Afrikaans, French and German.
Why Not Overnight?
Find Accommodation in Braamfontein
Since the world discovered Johannesburg, discerning travellers from around the globe have made Protea Hotel Parktonian their venue of preference. ...
Related Pages
Travelling to Braamfontein
• Braamfontein Attractions
• Braamfontein Hotels
• Johannesburg Hotels