Gauteng Things To Do
Visit the Austin Roberts Bird Sanctuary (Muckleneuk)
Categories: Bird Sanctuaries / Parks & Gardens / Wheelchair Friendly
Price group: R1 to R100 per person (see other things to do in this price group)
Available in the following region(s): Pretoria
Address: The entrance is on the right hand corner of Boshoff and Roper Streets, Muckleneuk, Pretoria.
Telephone: +27 (0)12 440-8316
Opening hours: Summer: September to April from 07h00 to 18h00. Winter: May to August from 07h00 to 17h00.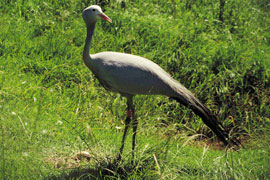 The Austin Roberts Bird Sanctuary lies in Muckleneuk and is a regular Sunday afternoon picnic spot for families. The area around the Blue Crane restaurant, which lies virtually on the dam and adjacent reed beds, attracts blue crane, grey crowned crane, rock doves, speckled pigeons and the odd Egyptian goose, that all feed regularly here.

The 11.8 hectare sanctuary lies within the Walkerspruit Open Space System in which two streams feed water into wetland basins that attract a large number of water bird species. There is a bird hide and guided walks as well as an exhibition hall.
Why Not Overnight?
Find Accommodation in Muckleneuk
The serene beauty of Illyria House has always been an irresistible attraction to all lovers of fine things. An enchanting colonial lifestyle unfolds ...
Found in the serene suburb of Bailey's Muckleneuk in Pretoria, Touch of Class Guest House offers its guests a stay in a tranquil and beautiful ...
Related Pages
Travelling to Muckleneuk