Gauteng Things To Do
Sci-Bono Discovery Centre (Newtown)
Categories: Family Entertainment / Miscellaneous / Wheelchair Friendly
Price group: R1 to R100 per person (see other things to do in this price group)
Available in the following region(s): Johannesburg
Stay Overnight: See Newtown accommodation, in Gauteng
Address: Corner of Mirriam Makeba and President Street, Newtown, Johannesburg.
Telephone: +27 (0)11 639-8400
Opening hours: Monday to Friday from 09h00 to 17h00; Weekends and Holidays from 09h00 to 16h30.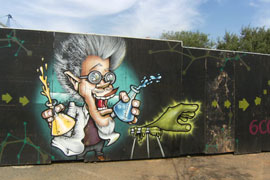 Sci-Bono Discovery Centre, Gauteng's exciting new Science Centre and the largest in Africa, is a uniquely crafted edutainment destination for learners, educators, families, companies, and tourists to interactively participate in exciting and fun-filled activities in mathematics, science and technology.

Initiated by the Gauteng Department of Education and private sector representatives, Sci-Bono aims to support education in mathematics, science and technology to improve public engagement with science, engineering and technology and to promote career education in these critical areas of the economy.

Located in the old Electric Workshop building in the cultural precinct of Newtown, Johannesburg, Centre provides an accessible teaching and learning environment with "hands-on" exhibits, science stage shows and innovative workshops that demonstrate a variety of scientific and mathematical concepts. Its primary aim is to significantly contribute to developing greater proficiency in Science, Engineering and Technology (SET) by demystifying science and improving the public understanding of SET.
Why Not Overnight?
Find Accommodation in Newtown
Rising up from an awakening Johannesburg skyline in the heart of Newtown, this refurbished powerstation is an architectural masterpiece and a powerful 5 star ASATA graded venue. The unique artistic and cultural location's imposing industrial exterior conceals ...
Related Pages
Travelling to Newtown
• Newtown Cultural Precinct
• Johannesburg Hotels
• Johannesburg Attractions