Gauteng Things To Do
Moyo at Zoo Lake (Parkview)
Categories: Cafés & Eateries / Cultural Sites / Restaurants: Casual Dining
Price group: On Request (see other things to do in this price group)
Available in the following region(s): Johannesburg
Address: Moyo at Zoo Lake Park,1 Prince of Wales Drive, Parkview, Johannesburg.
Telephone: +27 (0)11 646-0058
Opening hours: Monday to Sunday for Breakfast, lunch, sundowners and dinner.
To see more restaurants:
South Africa Restaurants / Gauteng Restaurants / Parkview Restaurants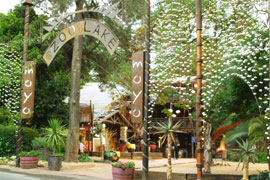 Facing the setting African sun, overlooking the tranquil lake, protected by tall pine trees and their unmistakable smell, Moyo Zoo Lake welcomes locals, tourists, travellers, children and dogs.

Moyo Zoo Lake offers a 'Moyo Magic' programme encouraging children to celebrate African Heritage. The African Heritage site that is home to Moyo Zoo Lake pulsates with African magic and is worshipped by two huge decks overlooking the lake that serve romantically for cocktails. Moyo Zoo Lake offers a selection of authentic meal settings including outdoor dining hugged by trees in an African terraced garden or a tented ambiance. The indoor and outdoor African experience might find you interacting with the Marimba players who weave through the tables in traditional feathered headgear.

African art and water features accent the tribal ancestory of the menu displaying a flavour cascade of this continent's culinary riches. African painted 'statues' come to life holding hands with your tastebuds. Marimba bands, solo artists, traditional storytellers and mime artists captivate your African imigination. All the tastes of Africa are offered with all the love of the South African people. Just another breathtaking day in paradise ...

Additional Reading
For a review of some of the best delis and places to eat in Jozi, see our article at "When in Johannesburg: great spots at which to eat".
Why Not Overnight?
Find Accommodation in Parkview
The Village Green is a graded 4-Star guest house situated in the heart of the leafy village suburb of Parkview, and has 5 spacious guest suites - all ...
Ideal for comfortable short stopovers or extended stays, entertaining or corporate meetings, Parkview Guest House is let on a daily basis as ...
Related Pages
Travelling to Parkview
• Zoo Lake Johannesburg
• Parkview Attractions
• Johannesburg Accommodation