Categories: Nightlife & Theatre / Wheelchair Friendly
Price group: On Request (see other things to do in this price group)
Available in the following region(s): Johannesburg
Address: Joburg Theatre, Loveday Street, Braamfontein, Johannesburg.
Telephone: +27 (0)11 877-6800
Opening hours: Various times depending on shows.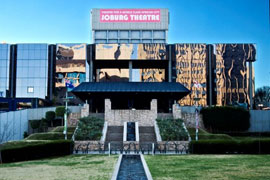 The Joburg Theatre is Africa's premiere home of live entertainment, presenting world-class international and home-grown theatre. With three theatres, a News Café, 8 function rooms for private dining or corporate functions, dance studios and Space (a facility within the theatre complex for the achievement of community development goals), the Joburg Theatre is a exciting, bustling venue from early morning to late at night.

Joburg Theatre offers theatre-goers a wide choice: from classical ballet to comedy; from drama and pantomime; from intimate single-handers to full ensemble productions as well as special fare for youngsters. It also gives performers, musicians, writers, directors, designers and technicians the space and opportunities to develop their skills in a commercially viable environment.

The South African Ballet Theatre is the permanent tenant of the Joburg Theatre's two dance studios. The studios - one above the other face south on Simmonds Street - have a glass facade allowing members of the public to watch dancers rehearse.
Why Not Overnight?
Find Accommodation in Braamfontein
Since the world discovered Johannesburg, discerning travellers from around the globe have made Protea Hotel Parktonian their venue of preference. ...
Related Pages
Travelling to Braamfontein