Gauteng Things To Do
Everard Read Gallery (Rosebank)
Categories: Art Galleries / Wheelchair Friendly
Price group: Free to Browse (see other things to do in this price group)
Available in the following region(s): Johannesburg
Address: 6 Jellicoe Avenue, Rosebank, Sandton, Johannesburg
Telephone: +27 (0)11 788-4805
Opening hours: Monday to Friday: 09h00 - 18h00; Saturday: 09h00 - 13h00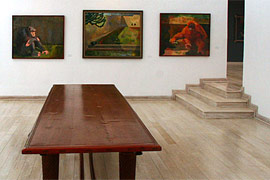 Spend a few hours at the Everard Read Gallery. Southern Africa's most famous commercial art gallery was established in the young mining town of Johannesburg in 1912. Over the years the gallery has grown in size and sophistication with the emergence of Johannesburg as Africa's business and financial capital. In 1980 the gallery moved from its elegant downtown location to a purpose-built building in the prestigious precinct of Rosebank.

The building, an outstanding example of post-modern architecture, has become a much admired landmark. Surrounding a charming 1920's house, which is the gallery's administrative centre, is a curvaceous structure comprising sculpture courtyards and four exhibition areas of various proportions with clerestory windows that ensure abundant daylight. Everard Read has become synonymous with the finest art emanating from Southern Africa. Many of this region's most celebrated painters and sculptors, both traditional artists of the past and emerging talent, exhibit with Everard Read which is also the agent for fine artists from elsewhere in the world.
Why Not Overnight?
Find Accommodation in Rosebank
A world-class hotel for the discerning traveller, the Hyatt Regency Johannesburg is situated in the leafy, cosmopolitan suburb of Rosebank, north of ...
Situated in Parkwood, one of Johannesburg's tree-lined northern suburbs, Jacaranda Place offers two very comfortable and attractive suites. A ...
Related Pages
Travelling to Rosebank