Gauteng Things To Do
Cycling and Mountain Biking with JMBC (Irene)
Categories: Cycling / Sports & Leisure
Price group: R1 to R100 per person (see other things to do in this price group)
Available in the following region(s): Johannesburg / Midrand / Northern Gauteng
Address: Social rides in Lanseria, Irene or Midrand.
Telephone: +27 (0)83 775-5871
Opening hours: Most weekends of the year, please enquire.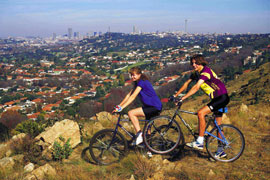 The Johannesburg Mountain Bike Club, or JMBC, was conceived in 1989 and has celebrated its nineteenth birthday and continues to celebrate the fun art of riding a bike in the dirt.

With a membership base of around one hundred, the JMBC is possibly one of the largest social mountain bike clubs in Africa. The club organizes social rides on most weekends of the year, catering for the majority of members by providing rides that are grouped for a range of fitness and skill levels. Volunteer mountain bike enthusiasts organize and run the club and the rides and more helpers are always welcome.
Why Not Overnight?
Find Accommodation in Irene
Nestled in the historic village of Irene, centrally located between Johannesburg and Pretoria, the rustic charm of Irene Country Lodge awaits you. ...
Tucked away in tranquil Irene amid lush green pastures and old oak trees lies a sparkling gem. River Meadow Manor exudes country-style sophistication ...
Related Pages
Travelling to Irene
• Lanseria Accommodation
• Midrand Accommodation
• South Africa Activities
• Cycling in South Africa