Eastern Cape Things To Do
Lumin James Originals Pottery Studio (Jeffreys Bay)
Categories: Art Galleries / Malls & Shopping
Price group: Free to Browse (see other things to do in this price group)
Available in the following region(s): Sunshine Coast
Address: 24 Cormorant Crescent, Aston Bay, Jeffreys Bay, Eastern Cape
Telephone: +27 (0)42 292-0713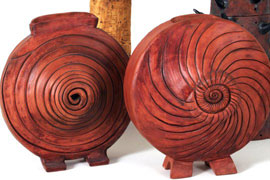 Working mostly with clay they create functional art in the form of pottery. Each item that comes out of their studio is a 'one-of-a-kind' item. Whether it is in the making or the decoration, each product is unique. Their recent first attempt at the traditional art of Raku firing was hugely successful and they are planning to extend their range of products using this method. They believe that by combining form and function, a great deal more satisfaction is derived from a well crafted piece.

When they are not in the pottery studio they both enjoy sculpting, oil painting, creating jewellery in silver and find their inspiration in nature, social events and daily experiences. Some products in their range include the 'Xhosa Girl' platters and mugs, showing women and children in traditional dress using a contemporary design style.
Why Not Overnight?
Find Accommodation in Jeffreys Bay
Saruna Guesthouse is situated on The Sunshine Coast in Jeffrey's Bay. We offer a unique, relaxing and intimate getaway combining nature at its best ...
Chinaberry Lodge comprises two separate apartments which can accommodate six people each. Each apartment has two bedrooms and two bathrooms – one ...
Related Pages
Travelling to Jeffreys Bay
• Things to Do Jeffreys Bay
• Jeffreys Bay Attractions
• Jeffreys Bay Map
• Eastern Cape Accommodation