Where? Gardens
The Millers Thumb is a Cape Town stalwart - one of those rare gems that have had locals and tourists returning for more of its magic for decades. Solly and Jane Solomon have all the right ingredients when it ...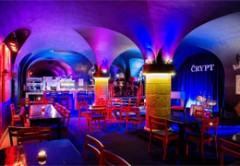 Where? Cape Town Central
Come and enjoy jazz and good food at the Crypt Jazz Restaurant. This sensational restaurant has live jazz entertainment and an incredible ambiance. There is no better place to sit and enjoy a meal. Some of ...