Botswana Tourism: Important information for Visitors and Tourists to Botswana, including Gaborone, the Okavango Delta, National Parks and Kalahari Desert.

Botswana Visa Requirements
All visitors entering Botswana must hold a passport that is valid for at least six months, except those with United Nations Convention travel documents. Visitors must also have outgoing travel documents and sufficient funds to finance their stay.

Valid entry visas for the countries which do require them may be obtained from Botswana's various embassies and high commissions abroad. In countries where Botswana is not represented, visas may be obtained from the British High Commission. Entry visas obtained at border posts are valid for a maximum of 30 to 90 days. Extensions may be obtained from any immigration office in Botswana. No visitor is allowed more than a 90-day stay in every calendar year, unless permission has been granted in the form of a waiver pending the outcome of a residence permit application.

Citizens of the following countries do not require visas:
Austria
Greece
Mauritius
Switzerland
Belgium
Iceland
Netherlands
USA
Denmark
Ireland
Norway
Uruguay
Finland
Italy
Samoa
Yugoslavia
France
Liechtenstein
San Marino
South Africa
Germany
Luxembourg
Sweden
Commonwealth countries (except Ghana, Nigeria, India, Sri Lanka & Pakistan)

Gaborone Accommodation | Botswana Accommodation
SA-Venues.com provides a comprehensive directory of accommodation establishments from luxury 5 star hotels to guest houses, bed and breakfasts and lodges. From our listings you may send e-mail and make enquiries or bookings directly with the establishment owners.

Note: Deal direct and save - When searching for accommodation on THIS web site, your enquiries go directly to establishments of your choice - you pay no commissions on your bookings! Please use the contact details for the establishments as provided.

» Please note this section has been discontinued.

Sir Seretse Khama International Airport
The modern Sir Seretse Khama Airport, situated eight kilometres from the city, is used by numerous airlines, including British Airways which flies directly to Gaborone via Johannesburg. Air Botswana and South African Airways link Botswana with the rest of the world. The airlines commute in most of the regional centres. There are also several air charters within the country. The airlines operate convenient flights to and from the entire region's tourist centres. Air Botswana, the nation's flag carrier flies to most of Botswana tourist spots like Maun, Chobe, Francistown and Selebi Phikwe.

Botswana Climate
Botswana's climate is semi-arid. Though it is hot and dry for much of the year, there is a rainy season, which runs through the summer months. Rainfall tends to be erratic, unpredictable and highly regional. Often a heavy downpour may occur in one area while 10 or 15 kilometres away there is no rain at all. Showers are often followed by strong sunshine so that a good deal of the rainfall does not penetrate the ground but is lost to evaporation and transpiration.

Shopping in Gaborone
The Mall is Gaborone's first and most popular shopping area. A well known hotel, several embassies, commercial banks, the outlet for the government newspaper and numerous shops and offices encircle The Mall. Elsewhere in the city there are numerous shopping areas, with shops and take-away food outlets intermingled with industries in the three industrial areas.

Safety
Botswana remains a relatively safe place to visit, however there are a few incidents of crime. It is advisable to take basic precautions as in any large city: Always lock your car doors, always lock your hotel room, do not leave valuables in your hotel room or car; and take care with your bags in crowded places, particularly in the malls and night-clubs.

Golf Courses and Golf Tours
With the Phakalane Golf Estate Hotel Resort receiving a top award at this years International Travel Awards, Botswana is fast becoming a hot golfing destination on the golfers calendar. Phakalane is increasingly capturing the imagination of the golfing world with its 18-hole championship golf course that many commentators have compared favourably with the best in the world. Click here for detailed information about Botswana Golf Courses and golf tours.
| | | |
| --- | --- | --- |
| | | Botswana is where the white-hot Kalahari Desert meets the wild Okavango River delta in an explosion of green that shelters and feeds some of the continent's most prolific wildlife. Hidden in the searing sand is one of the world's richest sources of diamonds. |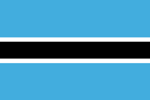 Full country name: Republic of Botswana
Area: 600,370 sq km
Population: 1.6 million
People: Batswana 60%, Bakalanga, Basarwa, Bakgalagadi
Language: English, Setswana
Religion: indigenous beliefs, over 50%, Christian 30%
Government: parliamentary republic
Head of State: President Festus Mogae
GDP: US$5.25 billion
GDP per capita: US$3,300
Annual Growth: 6%
Inflation: 9%
Major Industries: diamonds, copper, nickel, coal, salt, soda ash, potash, livestock processing, sorghum, maize, millet, pulses, groundnuts (peanuts), beans, cowpeas, sunflower seed, livestock
Major Trading Partners: EU, Southern African Customs Union (SACU)

» Photograph © South Africa Tourism «