KwaZulu Natal Maps
Map of La Lucia, KwaZulu Natal
La Lucia Map - La Lucia street level map showing the proximity of La Lucia to Glenashley and location of suburbs and some attractions in La Lucia. The quaint town of La Lucia is situated on the beautiful Umhlanga coastline near the suburb of Umhlanga Rocks, just a short drive from the hustle bustle and excitement of the Umhlanga Coast. See La Lucia Information.
If you are interested in overnighting in the area, we can recommend some great hotels, guest houses and self catering establishments. Find them at La Lucia Accommodation. If you're only planning on driving through La Lucia, en-route to another destination, you may want to peruse our La Lucia Restaurants before you leave to see if you should plan a stop here for lunch or maybe just a coffee. Also check out La Lucia Things To Do to see if there are any activities for which you would consider stopping.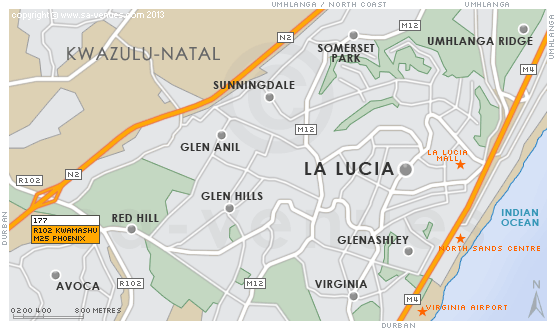 Related Links
Featured Attractions in (or near) La Lucia

Gateway Theatre of Shopping is one of Africa's largest super regional retail destinations. Features: Barnyard Theatre, Ster Kinekor cinema, Cinema Nouveau, IMAX, rock climbing wall, artificial waves, skateboard park, Woolworths, Edgars, Truworths, Game, Exclusive Books, Musica, over 30 ... more information

The only organisation of its kind in the world, the Natal Sharks Board protects beach users in KwaZulu Natal against shark attack with an extensive and effective network of shark nets that extend along 320 kilometres of coastline. The Natal Sharks Board is not only involved in preventing shark attacks, it also plays a ... more information

Umhlanga Coast Beaches
A breathtaking diversity of tropical fish and coral reefs wrap along the Umhlanga coastline, making it a perfect scuba diving and snorkelling destination. Surfers flock to Umhlanga's warm waters to make the most of some incredible surf spots. Those who crave seclusion can find many remote beaches along the coast.
Related Links
On Holiday in La Lucia
• About La Lucia
• Visitorial - I ♥ La Lucia because...
• La Lucia Accommodation
• La Lucia Hotels
• Umhlanga Coastline Accommodation
• Umhlanga Coast Hotels
• KwaZulu Natal Accommodation