Gauteng Maps
Map of Germiston, Gauteng
Germiston Map - Germiston detail and street level map showing the suburbs and landmarks of Germiston including the location of Rand Airport and the Germiston Country Club. Germiston is situated in the East Rand area of Gauteng. Germiston is South Africa's sixth largest city with 70% of the western world's gold passing through its gold refinery. For additional information about Germiston please visit Germiston Information.
If you are interested in overnighting in the area, we can recommend some great hotels, guest houses and self catering establishments. Find them at Germiston Accommodation. If you're only planning on driving through Germiston, en-route to another destination, you may want to peruse our Germiston Restaurants before you leave to see if you should plan a stop here for lunch or maybe just a coffee. Also check out Germiston Things To Do to see if there are any activities for which you would consider stopping.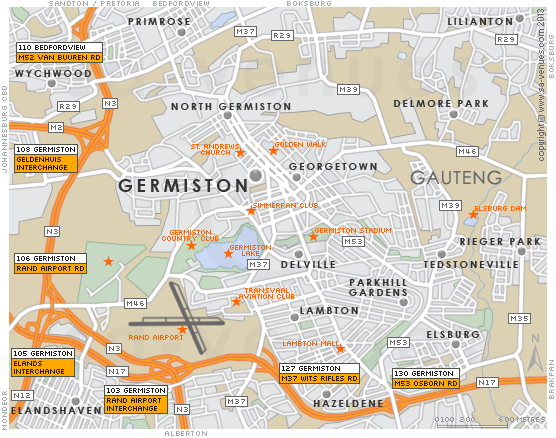 Related Links
Featured Attractions in (or near) Germiston

Just outside Johannesburg in Boksburg, the East Rand Flea Market lies right next to the East Rand Mall, and as a result, is open just about all week, except for Mondays, to sell its wares to shoppers, who delight in the array of goods that range from African artwork, to any number of handcrafted goods, a budding home ... more information
East Rand Mall
East Rand Mall is situated 7km away from OR Tambo Airport. The Mall includes all of South Africa's Major Chain Stores and a host of smaller specialised stores. Extensive entertainment facilities, which include a Games Arcade, Restaurants, Coffee shops, a nine theatre Cinema Centre and an exciting Food and Entertainment Mall.

18 holes, par-72. Rating 71, 6 523 metres. The course has kikuyu fairway and bent grass greens. The Germiston Lake comes into play on the par-three 15th and 17th holes. Well-manicured, the Germiston Golf course affords some challenging holes in a beautiful setting, right next to Victoria Lake and is.. more information

The Hector Pieterson Memorial and museum opened in Soweto in 2002, not far from the spot where 12 year-old Hector was shot on the 16 June 1976 during the Soweto uprising that today is a symbol of resistance to the brutality of the apartheid government. Soweto, a city developed as a township for black ... more information
Formerly officially known as Johannesburg International Airport, the OR Tambo International Airport is a large airport near the city of Johannesburg, Gauteng, South Africa. It serves as the primary airport for domestic and international travel to or from South Africa. It is Africa's busiest airport, handling over ... more information
Related Links
On Holiday in Germiston
• About Germiston
• Germiston Accommodation
• Germiston Hotels
• East Rand Accommodation
• East Rand Hotels
• Gauteng Accommodation