Gauteng Maps
Map of Bryanston, Gauteng
Bryanston Map - Bryanston detail and street level map showing landmarks of Bryanston including its close proximity to Rivonia. Bryanston is affluent suburb of Johannesburg, home to a number of spectacular entertainment facilities, shopping malls as well as a few world class restaurants and the Bryanston Shopping Centre caters for the affluent community of Bryanston and its surrounding areas. For additional information about Bryanston please visit Bryanston Information.
If you are interested in overnighting in the area, we can recommend some great hotels, guest houses and self catering establishments. Find them at Bryanston Accommodation. If you're only planning on driving through Bryanston, en-route to another destination, you may want to peruse our Bryanston Restaurants before you leave to see if you should plan a stop here for lunch or maybe just a coffee. Also check out Bryanston Things To Do to see if there are any activities for which you would consider stopping.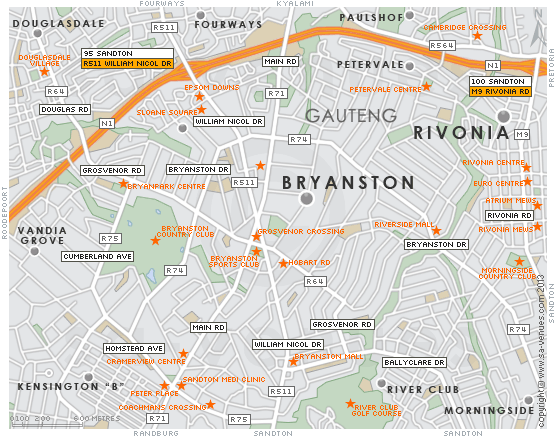 Related Links
Featured Attractions in (or near) Bryanston

The cover is cynodon, which is a strain of bent grass. Another feature of the Bryanston Golf course is the abundance of water hazards and it's possible to 'dunk one in the drink' on all but five of the 18 holes. The Bryanston Golf Course plays to an unusual par 73 and is 6,576 metres long. With 13 of the 18... more information

Liliesleaf Farm, which lies in the midst of the leafy suburb of Rivonia, played a rather pivotal role in the history of South Africa. It was where a group of senior ANC were arrested during a police raid in 1963 for planning to overthrow the apartheid government. Nelson Mandela was already in prison ... more information

Situated in the heart of Sandton Central, in Johannesburg, South Africa, the Nelson Mandela Square is surrounded by world-class hotels and restaurants. The popular Sandton City Shopping Centre is adjacent to the Square. Sandton Square made headlines when, commemorating South ... more information

Situated in Sandton in Johannesburg, the River Club Golf Course not only scored highest for conditioning, but has some of the best finishing holes in the country. River Club is a very up market, exclusive club. One of the finest layouts in the country, and no expense is spared to keep it in pristine condition... more information

Sandton City
One of the main attractions in Sandton is Sandton City. This shopping centre is ranked among the largest shopping centres in Africa. Together with Nelson Mandela Square, the centre boasts over 144,000m² of shopping space making it the largest in the Southern Hemisphere! It is definitely any shoppers Mecca.
Related Links
On Holiday in Bryanston
• About Bryanston
• Bryanston Accommodation
• Bryanston Hotels
• Sandton Accommodation
• Sandton Hotels
• Gauteng Accommodation

SA Innovation Summit
29 Aug. 2013 to 30 Aug. 2013 tbc
The 5th SA Innovation Summit staged in Bryanston aims to jolt participants and stimulate ... more