Gauteng Maps
Map of Boksburg, Gauteng
Boksburg Map - Boksburg detail and street level map showing the suburbs and landmarks of Boksburg and its close proximity to Benoni. Boksburg is a shoppers delight. It boasts the East Rand Mall which is one of the most popular and biggest shopping malls in Johannesburg. For additional information about Boksburg please visit Boksburg Information.
If you are interested in overnighting in the area, we can recommend some great hotels, guest houses and self catering establishments. Find them at Boksburg Accommodation. If you're only planning on driving through Boksburg, en-route to another destination, you may want to peruse our Boksburg Restaurants before you leave to see if you should plan a stop here for lunch or maybe just a coffee. Also check out Boksburg Things To Do to see if there are any activities for which you would consider stopping.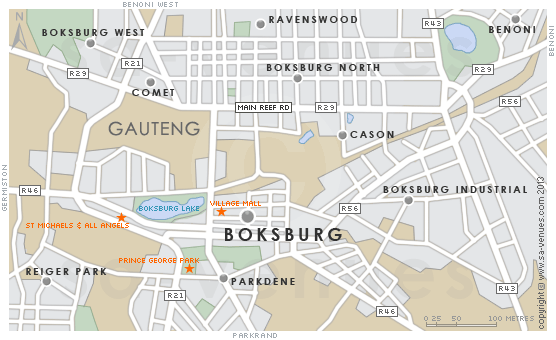 Related Links
Featured Attractions in (or near) Boksburg

One of the four large expanses of water that form a chain through this East Rand municipality is known as Middle Lake, and it is on the shores of this lake that the Benoni Lake golf course is found. A major road runs through the course, neatly separating the two nines on this 18-hole, par-72 parkland... more information

Boksburg Lake
Boksburg Lake is a spectacular lake which is over 150,000 square metres and surrounded by lawns, trees, and terraces. This is a popular boating, fishing, watersport and hiking destination for many. The scenery here is lovely and many families enjoy blissful and entertaining days and weekends here.

Bruma Lake Flea Market, very close to Eastgate shopping mall in the southern suburbs, is one of the biggest flea markets in South Africa, and you'll find almost anything you can think of here. Bruma is an array of West African wood crafts, designer clothing, wire art, homemade toys, plastic gadgets, arts and crafts, curios ... more information

Just outside Johannesburg in Boksburg, the East Rand Flea Market lies right next to the East Rand Mall, and as a result, is open just about all week, except for Mondays, to sell its wares to shoppers, who delight in the array of goods that range from African artwork, to any number of handcrafted goods, a budding home ... more information
East Rand Mall
East Rand Mall is situated 7km away from OR Tambo Airport. The Mall includes all of South Africa's Major Chain Stores and a host of smaller specialised stores. Extensive entertainment facilities, which include a Games Arcade, Restaurants, Coffee shops, a nine theatre Cinema Centre and an exciting Food and Entertainment Mall.

The ERPM Golf course has bent grass greens and kikuyu fairways, and has a flat parkland layout. The long-time home of US Senior PGA star John Bland, this is a well-established course that was founded way back in 1914. The layout is flat but there are many trees. ERPM Golf Club came into... more information
Formerly officially known as Johannesburg International Airport, the OR Tambo International Airport is a large airport near the city of Johannesburg, Gauteng, South Africa. It serves as the primary airport for domestic and international travel to or from South Africa. It is Africa's busiest airport, handling over ... more information

WesBank Raceway
The WesBank Raceway was built on the site of a former horse racing track and opened in 2003. This facility features an oval track, dragstrip, road circuit and motorcross track, allowing for a wide range of events. It is so named due to a sponsorship deal with the South Africa WesBank company. (Wesbank Raceway is in Germiston).
Related Links
On Holiday in Boksburg
• About Boksburg
• Boksburg Accommodation
• Boksburg Hotels
• East Rand Accommodation
• East Rand Hotels
• Gauteng Accommodation

Animal Run
2 Sep. 2013 tbc
Motorcycle clubs and fanatics are invited to participate in a first of its kind Animal Ru... more