Gauteng Maps
Map of Bedfordview, Gauteng
Bedfordview Map - Bedfordview detail and street level map showing the suburbs and landmarks of Bedfordview including Bruma Lake and Gillooly's Interchange. Bedfordview is one of the closest suburbs of Johannesburg to the OR Tambo Airport, so for business people dipping into the city only briefly, Bedfordview is an ideal location. For additional information about Bedfordview please visit Bedfordview Information.
If you are interested in overnighting in the area, we can recommend some great hotels, guest houses and self catering establishments. Find them at Bedfordview Accommodation. If you're only planning on driving through Bedfordview, en-route to another destination, you may want to peruse our Bedfordview Restaurants before you leave to see if you should plan a stop here for lunch or maybe just a coffee. Also check out Bedfordview Things To Do to see if there are any activities for which you would consider stopping.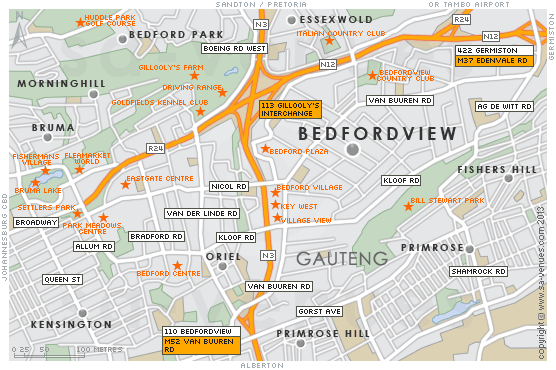 Related Links
Featured Attractions in (or near) Bedfordview

Home to the largest collection of money used in South Africa's past in the world, Absa Money Museum lies in downtown Johannesburg on Fox Street. The ABSA Money Museum is the only banking and money museum in the country, and holds a fascinating history of how economic, political and social change ... more information

The Apartheid Museum is the story of the triumph of the human spirit over adversity. Beginning in 1948, the white elected National Party government initiated a process which turned over 20 million people into 2nd class citizens, damning them to a life of servitude, humiliation and abuse. Their liberation in ... more information

Bruma Lake Flea Market, very close to Eastgate shopping mall in the southern suburbs, is one of the biggest flea markets in South Africa, and you'll find almost anything you can think of here. Bruma is an array of West African wood crafts, designer clothing, wire art, homemade toys, plastic gadgets, arts and crafts, curios ... more information
East Rand Mall
East Rand Mall is situated 7km away from OR Tambo Airport. The Mall includes all of South Africa's Major Chain Stores and a host of smaller specialised stores. Extensive entertainment facilities, which include a Games Arcade, Restaurants, Coffee shops, a nine theatre Cinema Centre and an exciting Food and Entertainment Mall.
Formerly officially known as Johannesburg International Airport, the OR Tambo International Airport is a large airport near the city of Johannesburg, Gauteng, South Africa. It serves as the primary airport for domestic and international travel to or from South Africa. It is Africa's busiest airport, handling over ... more information
Related Links
On Holiday in Bedfordview
• About Bedfordview
• Bedfordview Accommodation
• Bedfordview Hotels
• Johannesburg Accommodation
• Johannesburg Hotels
• Gauteng Accommodation

International Marimba and Steelpan Festival
3 Aug. 2013 to 4 Aug. 2013
Education Africa's International Marimba and Steelpan Festival incorporating a National ... more