The Limpopo Province
Limpopo Travel with Kids
Limpopo is largely about going on safari and what better way for families to experience nature's lessons, away from the hustle and bustle of artificial manmade structures. The western side of Limpopo, once given over to cattle farming and hunting, is now largely dedicated to wildlife conservation and, unlike the eastern side of the province, offers malaria-free big five game viewing that is perfect for families with children. [cont.]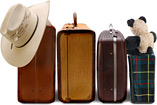 Regarded by some as the ugly sister of its southern neighbour, Mpumalanga, Limpopo Province nonetheless boasts the less crowded and wilder part of the Kruger National Park and the Olifants River. This river flows through the park and parts of the province, offering further value by way of water activities and white water rafting adventures in a world that is still given over to large tracts of indigenous forest, and large plantations of coffee, tea and citrus. Limpopo is about private game farms, wildlife sanctuaries, waters rich in trout, hot mineral springs and endless blue skies. Afromontane forests make hiking and walking a wonderful way to get away from it all, and the valleys are a cornucopia of tropical fruits that grow so easily here.
But it isn't all about wildlife. There are horse riding adventures, hot air ballooning opportunities, mountain and quad biking as well as paragliding. Mountain biking and road cycling are very popular - visit the Tzaneen Bicycle Club for more information.
The Marakele National Park, just 15 kilometres outside Thabazimbi, is home to over 800 breeding pairs of Cape Vulture, one of the largest known colonies. The Chuene Crocodile farm near Polokwane makes a great outing for kids, and the natural hot water spring at Bela Bela provide a series of baths that are a treat for children. [hide]
Family / Child Friendly Accommodation (all ages)
Find child-friendly establishments catering for families travelling with kids in the Limpopo Province. These child friendly establishments include family hotels, guest houses, bed & breakfasts, holiday apartments, suites, cottages and holiday homes that welcome children of ALL ages (from newborns to teenagers). Please see the Limpopo Accommodation listing pages for other establishments that accept children from 6, 12 or 16 years upwards (there are plenty to choose from!)
To find child friendly holiday accommodation in Limpopo, select a town / suburb in the drop down menu or from the detailed lists below:
Deal direct and save - your enquiries go directly to the establishments of your choice - no commissions on bookings! Please contact the establishments using details provided.
Limpopo Child Friendly
Suburb / Town List by Regions
accommodation by special category
For families travelling with babies, SA-Venues.com highly recommends Babylite, the one-stop baby hire service. Avoid the hassle of heavy prams, car seats and travel cots, not to mention excess baggage fees involved when travelling by air.
Babylite stock every baby product you need including prams, strollers, joggers, cots, car seats and more, all from trusted baby brands, and completely sanitised to keep your baby happy, healthy and safe during your South African family holiday.