Free State Golf Courses
Schoeman Park Golf Course, Bloemfontein
Designed by
Members
Type
Parklands golf course
Holes
18
Par
72
Fairway Grass
Bent
Greens Grass
Bent
Length
6436m
Telephone
+27 (0)51 408-3811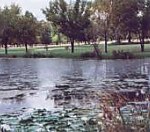 Schoeman Park Golf Course, Maselspoort Road, Bloemfontein, Free State / Schoeman Park Golf Club, as it is known today, had its origin in 1904 when a few Scottish members of the old Bloemfontein Railway Institute started playing golf on a nine hole golf course. Today the Club building and grounds still belong to Transnet, but the club is a separate legal entity, operating as a Section 21 company.

The trees lining the fairways are probably the most outstanding feature of the par 72 golf course with a course rating of 72. Bunkers are mostly found only around the greens and a few shallow water hazards make holes 5, 6, 8, 9 and 12 very interesting. The Golf Club was recently awarded the prestigious Golden Arrow Award for being the most outstanding sports club in the Free State and Northern Cape.

The Course
The Schoeman Park golf course is noted for its tall trees which come into play on many of the holes, including the 2nd which is a shortish par-four where the drive must be steered through a narrow avenue of foliage. The 4th hole, stroke two on the card, is a tough 415-metre par-four with out-of-bounds on the right and thick, wiry rough to contend with. The next hole is a splendid par-five of 501 metres with a strategically placed water hazard crossing the fairway about 120 metres from the green.

On the inward loop, the 395-metre dogleg par-four 13th stands out, as out-of-bounds on the right and the tall trees which are on either side of the fairway mean that accuracy off the tee is vital. The drive must again be precise at the 417-metre par-four 16th which bends almost 90 degrees to the right. The 18th curves to the left and there is plenty of rough and trees both on the left and on the right of the fairway.

Stay overnight
Find accommodation in Bloemfontein (by location map) or see Bloemfontein Accommodation (with preview images and description). Consider Bloemfontein Hotels (ranging from 3-5 star) or if you prefer to do it the self catering way, you will find our comprehensive list of Bloemfontein Self Catering options useful.

Also see Motheo Accommodation and Motheo Hotels for overnight options in surrounding towns or see Free State Accommodation and Free State Hotels for a place to stay in other towns and cities in the Free State.

Did you know?
A challenging, yet friendly course, to be enjoyed by all golfers. The local community has benefitted immensley from the development of the golf course with many locals being trained as caddies.
golf courses in the free state