14 Wilderness Holiday Homes / Villas
Showing 1 to 14 of 14 results
Self Catering
48 George Road, Wilderness, 6560, Garden Route
This spacious self-catering holiday home is located in the Wilderness and within walking distance of the beach and the village. Dolphins Estate is comfortably able to sleep up to eight guests. The house has four bedrooms. The ... read more
Self Catering
8 Bosbok Street, Hoekwil, 6538, Garden Route, Western Cape
Outeniqua Cottage is a very quiet secluded two bedroom cottage in Hoekwil near Wilderness. From the large wooden deck one has an amazing view over the Outeniqua Mountains and forest. The cottage has an open plan lounge, dining ... read more
Our

Price Range


Available on request

Self Catering
Part 81/192 Farm Kleinkrantz, Wilderness, 6640, Garden Route, Western Cape
The cottage has 3 bedrooms and 2 bathrooms, all beautifully decorated. There is a fully equipped kitchen and 2 braai areas (inside & out) and everything else needed to make your stay a comfortable and pleasant experience. All ... read more
Our

Price Range


Available on request
Self Catering
Chalet 3, Pirates Creek, Wilderness, Garden Route, Western Cape
At Rest is an isolated, loose standing double storey log cabin with its own private parking at the entrance. The three bedroom log cabin is fully equipped for a comfortable, peaceful stay. Rooms are equipped with bedding and ... read more
Please note that At Rest is fully booked as follows • 29-30 June 2015 • 1-2 / 5-11 / 16-17 July 2015 • 7-9 / 27-29 August 2015 • 17-20 September 2015 • 19-22 October 2015 • 20-21 November 2015 • 1 December 2015 to 7 Jan 2016 • 11-17 January 2016
Self Catering
Young Terrace, Constantia Kloof Road, Wilderness, Garden Route
The Loerie's View is a 4 star graded, comfortable, self-catering holiday house situated in the beautiful and peaceful town of Wilderness. The Loerie's View offers accommodation for up to of 6 people and includes a fully equipped ... read more

Self Catering
1104 Ten Mile Lane, Wilderness Heights, 6538, Garden Route
Situated about 8km from Wilderness village along the Garden Route, this secluded and private chalet lies nestled in and surrounded by forest. The chalet consists of three bedrooms (sleeps eight). All rooms open onto a spacious ... read more
Self Catering
213 Langvlei Dunes, Wilderness, 6560, Garden Route, Western Cape
The two unit self catering cottage is in a big indigenous garden, surrounded by fynbos. As it is a quiet, safe area it is the perfect base from which to explore the countryside or alternately, a place to relax at, enjoying the ... read more
Self Catering
Farm Libertas, Woodville District, Hoekwil, Garden Route, Western Cape
The farmhouse is a lovingly restored 150-year old farmstead with the most wonderful original yellow wood beams. The farmhouse provides visitors with three bedrooms (sleep six) - two rooms with Queen size beds and the 3rd with ... read more
Self Catering
1 Sands Road, Wilderness, 6560, Garden Route
Situated right on the Wilderness Beach, Milford Sound is a spacious and comfortable holiday home (sleeping 8 guests) that offers security and privacy with its own access to the beach. The house is ideal for a self catering ... read more
A minimum stay of five (5) nights is required.
Self Catering
Between Island Lake and Bo-Langvlei, Wilderness National Park, Wilderness, Garden Route
The Langvlei offers self catering accommodation by the lakes in the Wilderness National Park, Garden Route. With a stunning view of a bird sanctuary, this six person country cottage is the ideal site for a relaxing stay. The ... read more
The Langvlei is fully booked from 22 December 2015 to 10 January 2016.

Self Catering
5 Southern Right Circle, Ballots Bay / Victoria Bay, Garden Route, Western Cape
Set on the cliff top of one of South Africa's most spectacular coastlines, this three bedroom holiday retreat (sleeps 6) with private swimming pool is set in a beautiful nature reserve on the Garden Route between Mossel Bay and ... read more
Spirit of The Ocean is fully booked from 1 December 2015 to 8 January 2016.
Self Catering
729 Constantia Kloof Road, Wilderness, 6560, Garden Route, Western Cape
Livingstone is uniquely situated in Wilderness Heights with breathtaking panoramic views across the Indian Ocean. Our establishment offer the very best of everything. Majestic views await you. Awake to the sight and sound of the ... read more
Self Catering
Oakhurst Farm, Wilderness, Garden Route
Sitting high above the Wilderness Lakes in rural Hoekwil, Oakhurst Farm clean country air, and a selection of rustic-luxury self catering accommodation. Choose between 'The Forge', which is a romantic escape or the Oakhurst Farm ... read more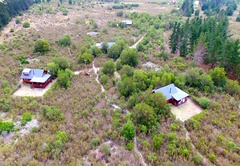 Self Catering
Farm Drie Valleyen, Wilderness, 6560, Garden Route
Our beautifully appointed, luxury houses can accommodate a maximum of four adults and two children each and comprise two bedrooms, one of which is a double and one a twin, large bathroom with shower bath and toilet, an extra ... read more
Showing 1 to 14 of 14 results
Why Book with SA-Venues.com
Secure payments
Accredited establishments
Deal direct and save