Knysna Child / Family Friendly Accommodation
Child friendly hotels and accommodation in Knysna - including family hotels, guest houses, bed & breakfasts, holiday apartments, suites, cottages and holiday homes - catering for families travelling with children. The establishments below accept children of all ages (from babies and toddlers to teenagers). If none of these establishments take your fancy, please adjust the filter to show results for the specific age group(s) required.
117 Family Friendly Establishments (all ages welcome)
Showing 106 to 117 of 117 results
Self Catering
88 Main Road, Knysna, 6571, Garden Route
Located in Knysna, Lakeside offers self catering accommodation in beautiful wooden rooms which have en-suite bathrooms, TV, M-Net and self-catering facilities. With exceptional views and a number of activities and attractions ... read more

Hotel
Corner of Long, Unity and Graham Street, Central, Knysna, 6571, Garden Route
Centrally situated within walking distance of all Knysna's popular attractions. The hotel prides itself in the exclusive detail and luxury finishes that have been incorporated throughout this fine establishment. The hotel staff ... read more

Self Catering
Knysna, Garden Route, Western Cape
Nestled in the forest outside the picturesque coastal town of Knysna, Phantom River View guest cabin offers easy access to the splendour of the garden route as well as secluded luxury Knysna ... read more
Guest House
65 Ridge Drive, Knysna, 6571, Garden Route
Knysnaviews Guest House is located on the hill above the centre of Knysna with breathtaking 180 degree panoramic views of the Lagoon, the famous Heads, Leisure Island and Thesen Island. The spacious Rooms with high ... read more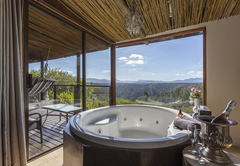 Self Catering
6kms along the Rheenendal Road, Knysna, Garden Route, Western Cape
Beaming with casual luxury.. Forest Valley embraces the dramatic beauty of the coastline town of Knysna with mountain and forest views. The offer of tree-top casual, rustic, honeymoon hideaways, cocooned seclusion and stunning ... read more

Self Catering
c/o Main and Holiday Crescent, Knysna, 6570, Garden Route
Monks Holiday Park is situated on the edge of the lovely Knysna Lagoon and is within walking distance of town. Self Catering accommodation is offered in either chalets, cabins or caravans. The chalets are self-contained with a ... read more
Hotel
16 Gray Street, Knysna, Garden Route, Western Cape
This unique four star hotel offers fifty seven tastefully decorated rooms with all modern appointments. All rooms are air-conditioned, have flat screen TVís with satellite options, hairdryers, tea / coffee making facilities and ... read more
Self Catering
Thesen Island, Knysna, Garden Route
This north facing, 2 bedroom self catering villa is situated on Thesen Islands, Knysna in the heart of the Garden Route on the edge of the Knysna estuary overlooking the Knysna Yacht Club. The Villa offers guests all the modern ... read more
Self Catering
Erf 7595, Cherry Lane, Knysna, 6571, Garden Route
Palm Lodge is situated on a hill overlooking the Knysna Lagoon but only three minutes from Knysna town centre. Situated on a secluded property this fully equipped self-catering flatlet caters for a maximum of two persons offering ... read more
Palm Lodge sleeps a maximum of two (2) persons only.

Guest House
84 Milkwood Drive, Knysna, 6570, Garden Route
Senate Boutique Guesthouse offers luxury bed and breakfast accommodation in the well known town of Knysna.There are eight Luxury Double Rooms to choose from each sleeping a maximum of two guests. From here you are ideally located ... read more
Guest House
3 Orbit Way, Paradise, Knysna, 6570, Garden Route, Western Cape
Aptly situated in an area of Knysna known as Paradise, Bradach Manor must have one of the most envied views in South Africa. The lodge looks out, from a rise coated with indigenous bush, straight over the Knysna Lagoon and ... read more

Self Catering
Q2, Quill Island, Thesen Island, Knysna, 6571, Garden Route
Comfortably sleeping eight guests in four bedrooms, Beach House Q2 is flooded with airy, natural light through the double volume spaces, skylight and high, exposed beams. Fully serviced Monday through Saturday (excluding public ... read more
Why Book with SA-Venues.com
Secure payments
Accredited establishments
Deal direct and save