Events in Wellington

Klein Optenhorst, Spring Open Garden

Annual Festivals Fauna & Flora Outdoor Events
Please Note
This event has already taken place. All details published in good faith, as supplied by the organisers. Please check our current and upcoming events list for events to attend.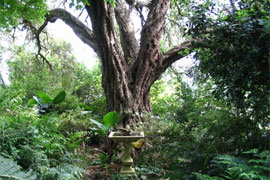 Klein Optenhorst lies in the historic Bovlei valley just outside the town of Wellington. The garden was terraced by the current owners in 1987, and planted over the years with a range of interesting and unusual heat-tolerant plants.
Among these is the largest collection of Salvias ever assembled in South Africa (including many indigenous ones) which flourish in the Boland Summer heat.
Other features include an ancient wild olive, believed to be more than 400 years old, a gravel garden and various ponds. The terraces from the stoep of the nineteenth century farmhouse lead down to a large farm dam with fine views of the surrounding farms that lie on the foothills of the Groenberg.
The nursery, selling rare & unusual plants, will be open and we will be hosting an exhibition of Carolyn Metcalfe's paintings & ceramics.