Western Cape Events
Klein Optenhorst, Spring Open Garden (Wellington)
When: Dates to be confirmed
We regret, the dates for this event have not yet been confirmed with us. Our apologies for any inconvenience. Event organiser please contact us with the date for this event.
Where: Wellington
Categories: Annual Festivals / Fauna & Flora / Outdoor Events
Stay overnight: See accommodation in Wellington, in Western Cape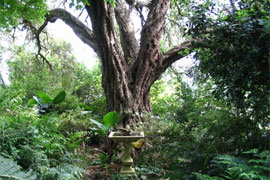 Klein Optenhorst lies in the historic Bovlei valley just outside the town of Wellington. The garden was terraced by the current owners in 1987, and planted over the years with a range of interesting and unusual heat-tolerant plants.

Among these is the largest collection of Salvias ever assembled in South Africa (including many indigenous ones) which flourish in the Boland Summer heat.

Other features include an ancient wild olive, believed to be more than 400 years old, a gravel garden and various ponds. The terraces from the stoep of the nineteenth century farmhouse lead down to a large farm dam with fine views of the surrounding farms that lie on the foothills of the Groenberg.

The nursery, selling rare & unusual plants, will be open and we will be hosting an exhibition of Carolyn Metcalfe's paintings & ceramics.

The 2010 vintage of Klein Optenhorst MCC will be on sale.

Venue: Klein Optenhorst, Bovlei Rd, Bovlei, Wellington 7654, South Africa
Contact: Jenny Ferreira at +27 (0)21 864-1210

Please Note: Dates for this event to be confirmed.
Stay a Day or Two?
Find Accommodation in Wellington
Casa Simelia - Woestkloof is a luxury self-catering country house nestled on the slopes of the beautiful Groenberg Mountain, on the private farm ...
A third generation working wine farm that keeps tradition and authenticity close to its heart, and where you can taste, stay, marry, learn and live. ...
Related Pages
Wellington Tourism
• Wellington Attractions
• Things to Do in Wellington
• Western Cape Hotels
• South Africa Accommodation