Western Cape Events
Klein Karoo National Arts Festival (Oudtshoorn)
When: Dates to be confirmed (Saturday, 29 March 2014 to Sunday, 06 April 2014)
Where: Oudtshoorn
Categories: Annual Festivals / Arts & Culture / Music Festivals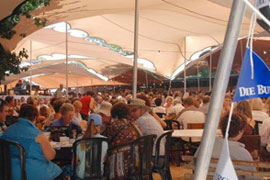 Klein Karoo Arts Festival (KKNK) is an Afrikaans arts and culture festival in the Karoo town of Oudtshoorn. Ten years after the first festival, the KKNK starts its second decade with a shift of emphasis to the classical, without changing its winning recipe drastically.

The music theatre genre boasts with a whole heap of productions. Goema is a brand new revue by David Kramer and Taliep Petersen, their first since Kat & The Kings.

The KKNK always offer a first class program to classical music enthusiasts and this year quite a few choirs will perform, including the University choirs of Stellenbosch and Pretoria , the Tygerberg's Children's Choir and Coristi Allegri (winners of the Slurpie prize in 2003).

Concerning the visual arts, this year's Festival Artist, Minette Vári, investigates identity through the lens of a video camera, while there are no less than 111 rare, original Pierneef works from the Absa collection on show.


It was decided to consolidate lectures and conversation in the courtyard of the CP Nel Museum. This year the Rembrandt Hall houses Die Burger se Oopgesprek (previously a lecture series), as well as the Skrywersitkamer, arts lectures and the Langenhoven Gedenklesing. The Boekeparadys move to the Klein Karoo Galery and in the Smit Kamer RSG presents a program of prize winning features.

Another new feature is the Karookafee (discussions about productions and exhibitions), Seepkis (for everyone that want to have their say) and Warm Patat (discussions about controversial subjects).

To avoid dissapoint it is advisable to book your accommodation well in advance for this event. Visit the Oudtshoorn Accommodation pages to find Guest Houses, Hotels & Self Catering Accommodation and for additional info about Oudtshoorn see Oudtshoorn Attractions.

Please Note: Dates for this event to be confirmed.
Stay a Day or Two?
Find Accommodation in Oudtshoorn
Buffelsdrift is a sprawling game farm in the foothills of the Swartberg Mountains in the Cango Valley, Pristine bushveld, lush vegetation and a 5 ha ...
An expansive modern working ostrich farm of 2000 hectares, on the banks of the Olifants River. De Zeekoe Guest Farm offers luxury en-suite bedrooms ...
Related Pages
Oudtshoorn Tourism
• Oudtshoorn Hotels
• Oudtshoorn Guest Houses
• Oudtshoorn Bed and Breakfast
• Oudtshoorn Family Friendly
• Karoo Accommodation
• Western Cape Accommodation