KwaZulu Natal Events
The Royal Show (Pietermaritzburg)
When: Friday, 23 May 2014 to Sunday, 01 June 2014
Where: Pietermaritzburg
Categories: Agricultural Shows / Annual Festivals / Exhibitions & Conferences
Stay overnight: See accommodation in Pietermaritzburg, in KwaZulu Natal
Please Note: This event has already taken place. Please check our Current and Upcoming Events List for current events.

This is the biggest event in KwaZulu Natal and the Pietermaritzburg Royal Show attracts visitors from far and wide. The show has hundreds of craft and home industry exhibitions and stalls as well as competitions for birds, livestock and agricultural produce.

This is a show with a long history as it's inception was 1851. Fondly known as "The Royal" the show has approximately 13 different exhibition halls and 350 trade stands.


Tons of entertainment is on the go during the show to keep the whole family busy, from concerts, fireworks displays, vintage tractor displays and show-jumping you will be busy for hours.

Venue: Royal Agricultural Society of KZN Showground
Telephone: +27 (0)33 345-6274
Please note that event and festival details can change. All event information is published in good faith as supplied by the organisers. Please check with the organisers that the event is happening before making your travel arrangements.
Stay a Day or Two?
Find Accommodation in Pietermaritzburg
A Bit of Heaven is a peaceful retreat overlooking a fairy tale garden. Centrally situated , A Bit of Heaven offers easy access to all local ...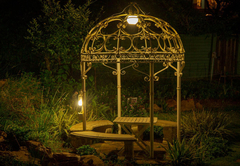 Lincoln Cottages is nestled amongst indigenous Acacia trees in the tranquil suburb of Lincoln Meade, and offers an ideal base from which both the ...
Related Pages
Pietermaritzburg Tourism
• Pietermaritzburg Accommodation
• Pietermaritzburg Bed & Breakfast
• Pietermaritzburg Hotels
• KwaZulu Natal Accommodation