Citrus Sports Festival
Dates: 17 Aug 2013 to 18 Aug 2013
Location: Addo
The Citrus Sports Festival takes place in August at the Sundays River Primary Scool. Celebrate the Citrus Season with the people of Addo at the annual Citrus Sports Festival.

Lots of stalls and an entertainment programme, this a fun-filled event for the whole family. A large selection of citrus products can be tasted and will be available for purchase.

Afrikaanse Inligting
Die Laerskool Sondagsrivier sien uit na hul 15de jaarlikse sportdae en sitrusfees wat op 13 Augustus 2011 gehou gaan word. Hierdie is 'n baie besonderse geleentheid omdat verskeie skole dwarsoor die Oos-Kaap gaan deelneem.

Vir diegene wat net wil ronddwaal en hul kom verlustig in die wonderlike gasvryheid en vriendelikheid in die Sondagsriviervallei, sal daar verskeie stalletjies en versnaperinge wees. Die kinders kan hul kom geniet op die springkastele en "quad bike" ritte. 'n Groot TV skerm is gereël vir die biertent en rugbygeesdriftiges word herinner dat die Springbokke teen Australië speel om 15:00. Toegangsgeld beloop R10 per volwassene, R5 vir nie-sportdeelnemende kinders en kinders onder 6-jaar gratis.

Contact: Elsa on +27 (0)42 233-1185

Please Note: Dates for this event to be confirmed.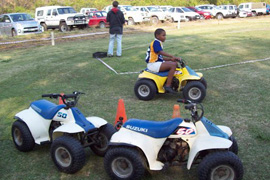 Powered by SA-Venues.com, bringing you Eastern Cape Accommodation and Events