Jeffreys Bay Dive Fest
Dates: 28 Sep 2013 to 30 Sep 2013
Location: Jeffreys Bay
Born out of the concern that nobody ever had the privilege of diving the local waters, a group of local scuba divers got together and established the J-Bay Underwater Club ("The Club is a non-profit organization and as such a legal persona"). With an aim to explore the virtually unexplored, the waters hold the promise of many new reefs, caves and wrecks to be discovered.

The club is now up and running & for the first time in its history the Coastal town of Jeffrey's Bay will be the host of the Jeffrey's Bay Diving Festival. Each event there is a theme given to the Jeffrey's Bay Diving Festival and this year it will be centered on "Discovering the Secrets of the J Bay Deeps." Not only will this event take place below the water but out of the water events will include a Play park-fun-fair, food & craft stalls beer tents & a lot of activities such as:

4x4 expo and Monster Trucks by LA SPORT, Various on stage events from Friday 30/09/11, Main concert Saturday from 18h00 PRIME CIRCLE & FRIENDS on the main stage. We are also proud to announce that we will be hosting the Miss EARTH SA "Miss EASTERN CAPE" pageant as well as having Miss EARTH SA 2011 and her 2 Princesses in Jeffrey's Bay and at the Dive Fest.

Contact: Hennie Oelofse on +27 (0)79 862-5218 for more information.
Venue: Jeffreys Bay Ski-Boat Club

Please Note: Dates for this event to be confirmed.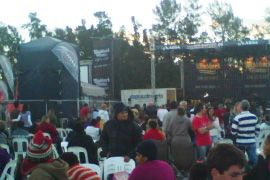 Powered by SA-Venues.com, bringing you Eastern Cape Accommodation and Events