Port St Francis Calamari Classic Festival
Dates: 23 Sep 2013 to 25 Sep 2013
Location: Port St Francis, St Francis Bay
For almost 15 years golfers and bowlers have been participating in the annual Calamari Classic in St Francis Bay between 23 and 25 September. Since last year the sporting program has been extended with a two day doubles squash tournament and this year a sportsday at Port St Francis.

The first event is a 5km/10km run at 08:00, at 11:00 a swimming event around the jetties (400m, 800m or the Port St Francis Mile), at 14:00 a surfski race while the anything that floats competition takes place around the jetties followed by a 5km trail run (15:30) and a mountainbike day & night ride (16:30 and 18:00 respectively).

The Calamari Classic Festival will be hosted by Port St Francis with a night market on Friday between 17:00 and 21:00 including a calamari cookout, live music and entertainment, on Saturday and Sunday it's Port St Francis Open Day with more stalls and food stalls, kids competitions and evening entertainment and on Sunday the market will be complimented with a jetski run, boat rides, a fishing competition, informative talks and Chez Patrick's Music on the Square.

Contact:
Amanda on +27 (0)42 294-0121 or Esti on +27 (0)73 825-0835.

Please Note: Dates for this event to be confirmed.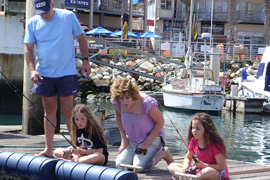 Powered by SA-Venues.com, bringing you Eastern Cape Accommodation and Events