Discovery Surfers Challenge
Dates: 16 Feb 2014
Location: Gonubie
The race starts at the mouth of the Kwelera River at Yellow Sands north of East London. Competitors then follow a rugged seaside course over loose boulders, gulleys and soft sand on the way past Rainbow Valley resort before they encounter their first major obstacle, the Gonubie River. After taking a plunge in the sometimes icy waters, a short run on the Gonubie Beach takes the runners past the car park and hotel for the relatively flat 5km chase along the coast-hugging tar road to Eastward Ho. From there it is back to the beach as runners plod their way through shingle to the firmer sand of Bonza Bay Beach and the last stretch before the final hurdle – the Nahoon River. Once across the Nahoon River, there is a 400 meter scramble to the finish in front of the Nahoon lifesaver's complex.

All this might sound a little intimidating to the not-so-competitive, but the cut-off time of 2 ˝ hours (3 ˝ for walkers) usually allows even the slowest runner/walker to finish inside the limit and qualify for the coveted and much sought after T-shirt. For those who doubt their swimming ability, lifeguards are always on hand at the rivers to lend a hand if necessary.

While Doug Kunhardt hold the prestigious record of being the only runner to have completed all previous 33 marathons, a few more are not far off the mark.

Yet another feature of the race has been the support and encouragment from residents along the Gonubie coastal road who provide runners with makeshift showers, water, cool drinks, music and a helping hand year-in and year-out.

One thing is for sure. Once you don your shoes for your first surfers marathon you are usually hooked and hopefully event coordinator Neville Wilkins and his dedicated team from Border Surfriders Association will continue to provide what is one of the largest social sporting events in the region for many years to come.

Time: 14:30 Runners/Paddlers - 14:40 Walkers
Cost: R70.00

Please Note: Dates for this event to be confirmed.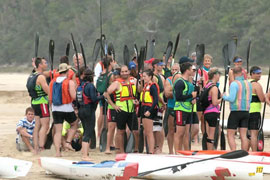 Powered by SA-Venues.com, bringing you Eastern Cape Accommodation and Events