Western Cape Destinations
Witsand, Cape Overberg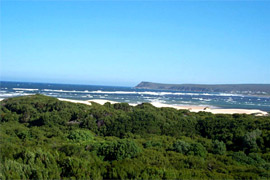 Once you've booked your Witsand accommodation explore our pages for info on attractions and what to do in Witsand.

The peaceful, coastal town of Witsand (white sands) lies on St Sebastian's Bay just off the N2 on the Cape South Coast, three hours from Cape Town and not to be confused with the Witsand Nature Reserve, which lies just west of the Langberg Mountains in the Northern Cape. St Sebastian Bay and Witsand are virtually synonymous with the Southern Right Whale. This bay is the most important nursery for the large mammal on the African Coast and one of the greatest concentrations of Southern Right Whales comes come here to calve every year. An aerial survey taken in late 1999 revealed a total of 107 calves in St Sebastian Bay and off De Hoop - 61% of all the calves seen between Nature's Valley and Muizenberg. On a good day, between June and late November, whale watchers can count up to 50 of these gentle giants.

Southern Right Whales migrate between Antarctic summer feeding grounds and mating and calving grounds off the coasts of Africa, Australia and South America and are slowly making a recovery from commercial whaling. The least understood of the world's whales, the Southern Right Whale, weighs up to 58 tons and has the most highly-evolved mammalian brains on earth. They have inhabited the southern oceans for about 60 million years.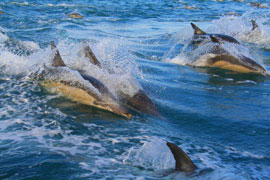 Witsands is also where the Breede River flows into the Indian Ocean, creating a river estuary of note that provides safe swimming, windsurfing, rock and surf angling, deep sea fishing, snorkelling, spear fishing and 4 km of long, unspoilt beach with white bleached sand - hence the village's name.
The sand is this white because the town lies above a body of underground water responsible for leaching the red iron oxide coating from the sand on Witsands beach. Another phenomenon is the famous 'Brulsand' or Roaring Sands. Under the right conditions Witsand's dunes utter eerie rumbles when disturbed.
All in all, Witsands makes a wonderful stop on the
Garden Route
. One is within easy reach of Malgas's Pont, De Hoop Nature Reserve,
Swellendam
,
Heidelberg
, the Bontebok Park,
Robertson
Wine Route and
Montagu
.
Get the Scoop
Witsand Reviews
Visitorials: We Love South Africa
Witsand Visitorial

Related Links
Featured Attractions in (or near) Witsand

Sheltered by the Langeberg Mountains and bordered to the south by the Breede River, the Bontebok National Park provides a refuge for not only bontebok, but also for other species such as the Cape mountain zebra, red hartebeest and grey rhebok. The park is situated within the Cape Floral ... more information

The coming of the whales to the Cape Overberg coastline, also known as the Cape Whale Coast, every year between June and November, not only creates a stir, but brings to our shores a large, intelligent and remarkable giant of the sea and the only mammal to have adapted to life in the open oceans ... more information

The De Hoop Nature Reserve is approximately 34 000 ha in size and one of the largest natural areas managed by Cape Nature Conservation. It is a favourite destination for hikers, cyclists, bird watchers and during the winter and early summer months, whale watchers. The entire length of the De Hoop coast is ... more information
Related Links
Things To Do in Witsand

Where: Witsand
How much (per person): Free
Witsand Beach is an awesome spot for whale watching and this Blue Flag beach (2013) with the 4km stretch of incredibly white beach sa ... more information

Where: Witsand
How much (per person): On Request
A visit to The Breede River Lodge in Witsand wouldn't be complete without guests taking advantage of the wonderful fishing and boating facil ... more information
Related Links
Restaurants in Witsand

Where: Witsand
The thatched restaurant, with its homely atmosphere invites you to come and enjoy its excellent dining facilities with the pleasure of a well stocked wine cellar. We are rated three star, but would li ... more information
Related Links
Events and/or Festivals in Witsand
Location: De Hoop
Duration: 1 day

Location: Witsand
Duration: 8 days

Related Links
On Holiday in Witsand
• Visitorial - I ♥ Witsand because...
• Witsand Accommodation
• Witsand Guest Houses
• Garden Route Accommodation
• Garden Route Hotels
• Cape Overberg Accommodation
• Western Cape Accommodation