Cape Town & Western Cape Tourist Attractions
Tulbagh Wine Route, Cape Winelands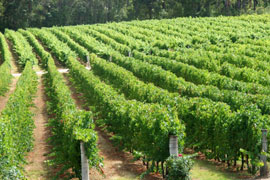 To view the individual wine estates of the Tulbagh Wine Route, see Tulbagh Wine Estates.

Only 80 minutes' drive from Cape Town, the Tulbagh Valley lies surrounded on three sides by mountains – in the west, the Obiqua Mountains, to the north the Winterhoek Mountains and to the east, the Witzenberg Mountain range. Cool, south-easterly winds blow in along the southern side of this beautiful valley during the summer – creating perfect conditions for viticulture.

The valley, graced with fertile soil, plenty of sunshine and good rainfall has a mild Mediterranean climate, characterised by extreme differences in temperature during the day and night and hot, dry summers. The true potential of the area is now being realised and the extremely variable soils in this secluded valley produce some award-winning wines.

The Tulbagh valley has some of the most natural beauty in the Cape and wine has become a focus of attention recently, particularly due to the string of national and international awards taken by a number of estates and private cellars. Some of South Africa's best known wine estates, including Drostdyhof, Theuniskraal and Twee Jonge Gezellen are part of this valley's wine route.

For additional information about Tulbagh, attractions, things to do and events and festivals see Tulbagh Information & Attractions.
Tulbagh Wine Route
Accommodation nearby
For accommodation in Tulbagh and nearby see:
• Tulbagh accommodation • Ceres accommodation • Wellington accommodation

Or to see all accommodation in this region, visit Cape Winelands accommodation.
Tulbagh Wine Route
Wine Estates of the Tulbagh Wine Route

The wineries of Tulbagh range from intimate homely cellars that produce honest wines to boutique estates known for their award-winning labels. Twee Jongen Gezellen is known for being the first night harvesting estate in the country. Soon afterwards, a number of other local ... more information

destinations / attractions in the western cape