Western Cape Destinations
Mowbray, Southern Suburbs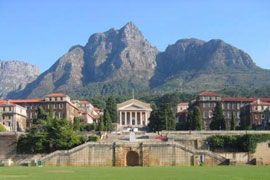 Once you've booked your accommodation in Mowbray, explore our pages for info on attractions and what to do in Mowbray.

Mowbray, an alternatively chic neighbourhood, with beautiful examples of Victorian terraced homes on the banks of the Liesbeek River, and a student digs with a healthy mix of north Africans and refugee communities that have given Mowbray its reputation as a transitory neighbourhood; one through which people tend to pass, not least due to Main Road Mowbray, which functions as an interchange for buses, taxis and trains. But the anticipated move to decay of Mowbray's CBD has shifted. Greening projects, such as planting trees, has improved the area, and trendy restaurants and coffee shops have moved into Durban Road - now a food lover's paradise - where locals sprawl out on to the pavements and catchy names like 'Fat Cactus' and 'Chai Yo' attract the student population.

Mowbray lies close to the University of Cape Town and Groote Schuur Hospital. Mowbray stretches from Mostert's Mill, built on the farm Welgelegen around 1796, to the Rondebosch Common, between Rosebank and the N2. Mowbray has pockets of quiet, leafy residential areas in Little Mowbray, the Village and upper Mowbray with Victorian terrace homes, some of which are national monuments, and gorgeous examples of Cape cottages.

Mowbray is close to the city centre - you can hop on a taxi from Main Road, take the Simons Town rail or use the M3, and Golden Arrow buses travel between Mowbray and Kirstenbosch on a regular basis.
Get the Scoop
Mowbray Reviews

"Visited Roseberrys on Durban Rd. Friendly, warm and delicious Chinese (authentic) and Sushi. Affordable and fresh ..." - Paul, Cape Town
Related Links
Featured Attractions in (or near) Mowbray

Cape Town International Airport is the base from which millions of international travellers begin their exploration of this uniquely beautiful country. It is the second largest airport in South Africa, second only to the OR Tambo International Airport in Johannesburg, Gauteng. It is also one of ... more information

Established in 1971 in the house the artist lived in for almost four decades. Several of the rooms are furnished as she arranged them while upstairs there is a commercial gallery used by contemporary artists. A lively temporary exhibition programme is arranged annually and visitors can enjoy the garden ... more information

Mostert's Mill
Mosterts Mill is open to the public most Saturdays when volunteer millers operate the mill. If you would like to see the Mill in operation or purchase some flour, the "Millers" would be delighted to see you and show you around this delightful example of "Living Heritage". Tel: 088 129-7168 to see if open.

Set in a very central area - about 15 minutes from the Waterfront and Cape Town's Airport, Mowbray is a parkland course, which provides an excellent test of golf. The terrain is flat, but plenty of trees and water features make for an interesting experience, with the beauty of the mountain and abundant wild life ... more information

A national landmark, Rhodes Memorial lies within the Table Mountain National Park and the views from up here are stunning, offering panoramic vistas of industrial Cape Town, out over the airport and the Cape Flats, and on a clear day, the Helderberg and Hottentots Holland Mountain range. Built on the ... more information

Rondebosch Common is unusual - it is not state, municipal or regional council land. In fact it is a donation of private land by Cecil John Rhodes in his will to be left as a permanent open space for the people of Cape Town. It is also a National Monument and one of the best-known ... more information

University of Cape Town
The University of Cape Town (UCT) is South Africa's oldest university. UCT has more than 60 specialist research units that provide supervision for postgraduate work and is home to more than a quarter of South Africa's A-rated researchers - academics who are considered world leaders in their fields.
Related Links
Things To Do in Mowbray

Where: Cape Town
How much (per person): Free
Start: parking area at Rhodes Memorial Finish: Kirstenbosch Botanical Gardens Duration: 6 km, roughly 3 hours one way ... more information

Where: Rondebosch
How much (per person): Free to browse
Ranked by Lonely Planet travellers as the 228th out of 659 things to do in Cape Town, the Potters' Market in Rondebosch Park, on the corner ... more information
Related Links
Restaurants in Mowbray

Where: Pinelands
With a friendly neighbourhood feel, classic Italian fare, and a warm energy that always makes you feel like a member of the famiglia, Pizzeria Villagio is the place to be. On any given night of the ... more information

Where: Mowbray
The Fat Cactus on Durban Road in Mowbray is somewhat of an institution in the Southern Suburbs offering some of the very best Mexican food in town. Their home on the corner is always buzzing with acti ... more information
Related Links
Events and/or Festivals in Mowbray
Location: Various Suburbs in Cape Town
Duration: 1 day

November
Related Links
On Holiday in Mowbray
• Rondebosch Accommodation
• Rosebank Accommodation
• Southern Suburbs Accommodation
• Cape Town Accommodation
• Western Cape Accommodation