Cape Town & Western Cape Tourist Attractions
Meiringspoort, Little Karoo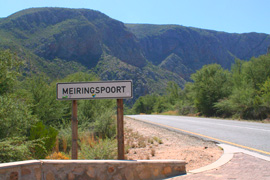 Soaring cliff walls with spectacular rock formations line the 25 km tarred road which winds along the floor of the gorge, crossing the Groot River 25 times.

Entry to the poort is via Klaarstroom, 55 kms east of Prince Albert en route to Oudtshoorn and the coast.

Hardy plants cling to the precarious rockfaces while birds, baboons and smaller fauna abound in the protected kloofs and crevices.

Among the most scenic spots is the waterfall tumbling into a dark pool which, legend has it, is bottomless. Meiringspoort has been flooded several times in its 140-year history (1885, 1968 and 1996 were devastating) and so the idea for building a high road over the mountains was born. The Swartberg Pass was opened in 1888.
Meiringspoort
Accommodation nearby
For accommodation nearby see:
• De Rust accommodation • Klaarstroom accommodation • Prince Albert accommodation
• Oudtshoorn accommodation

Or to see all accommodation in this region, visit Karoo accommodation.
Related Links
Attractions / Activities nearby

The 27km Swartberg Pass is considered one of the finest mountain passes in the world: an untarred road that winds to the summit 1583 metres above sea level in steep zigzags and sudden switchbacks with breathtaking views at every turn. The road is supported in places by hand-packed stone walls, a trademark of brilliant ... more information

Where to stay: Karoo accommodation
How much (per person): Free
Now proving to be the area's greatest attraction, The Great Waterfall on the Meiringspoort Pass was created in November 1996 after ... more information