Cape Town & Western Cape Tourist Attractions
Klein Karoo Wine Route, Cape Wine Routes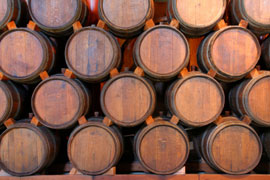 To view the individual wine estates on the this Wine Route, see Klein Karoo Wine Estates.

A little surprising, perhaps - that grapes can grow in a semi-arid area - but grow they do in this region, renowned for its extremes in soils and climate. Despite the low rainfall for the area, viticulture happens in the riverine sites, kloofs and valleys of its spectacularly rugged mountains and produces some of the country's most diverse wines.

Within the Little Karoo (Klein Karoo) are a number of microclimates allowing winemakers to produce a large variety of wines that include dry and fortified wines, such as South Africa's champion Muscadel, pot-stilled brandies and a wide range of premium red and white wines. The Little Karoo stretches from Montagu in the west to Uniondale in the east; the Langeberg Mountains form a boundary in the south, and the Cape Garden Route and the Swartberg lie to the north. Route 62 runs through the Little Karoo and includes the 16 members of this wine route.

For additional information about the Little Karoo, attractions, things to do and events and festivals see Little Karoo Information & Attractions.

Additional Reading:
If you are interested in the Klein Karoo Wine Route you may find our detailed article on this wine route informative. To view this article please see "Klein Karoo wine route – spit or swallow?".
Klein Karoo Wine Route
Accommodation nearby
For accommodation on the Klein Karoo Wine Route see:
• Barrydale • Beaufort West • Calitzdorp • De Rust • Herold • Klaarstroom
• Ladismith • Oudtshoorn • Prince Albert • Sanbona • Touws River

Or to see all accommodation in this region, visit Klein Karoo Accommodation.
Klein Karoo Attractions
Wine Estate in the Klein Karoo

The dry, harsh conditions of the Klein Karoo are actually ideal for the production of excellent wines. The summers are very hot and dry, while winters can hit major lows. The range of wines produced here is extremely varied as a result of this unique climate, and includes many wonderful ... more information

destinations / attractions in the western cape