Northern Cape Tourist Attractions
Upper Karoo, Northern Cape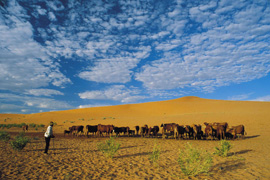 Once you've booked your hotel or Upper Karoo accommodation explore our destination pages below for info on attractions and what to do in the Upper Karoo.

The Upper Karoo is famous for its wide open spaces and healthy climate. The seemingly arid soil of the Karoo bursts into life after rains, which totally transform the landscape. Hardy succulents are complemented by grasses on which the region's cattle graze. Seemingly countless windpumps are indicative of the countless streams that flow between cracks and fissures that lie beneath the dry but fertile soil.

Small towns with distinct Karoo architecture and their imposing churches lie in the valleys between lone flat-topped koppies. Visit Colesberg, (a perfectly situated stopover for travellers from Gauteng and KwaZulu Natal to the Cape) a sheep-farming centre, then travel on to Hopetown where South Africa's first recorded diamond was found. Return via Orania which is a self-proclaimed Afrikaner 'volkstaat', and take some time to visit the Rolfontein Reserve on the shores of the Vanderkloof Dam.
Upper Karoo
Destinations / Town & Suburbs of Upper Karoo
Upper Karoo
Featured and "Must See" Attractions in Upper Karoo
Upper Karoo
Featured Things To Do in Upper Karoo
Upper Karoo
Holiday Accommodation in Upper Karoo
For accommodation in Upper Karoo see:
• Colesberg • Gariep Dam • Hanover • Loxton

Or to see all accommodation in this region at once, visit Upper Karoo Accommodation.

destinations / attractions in the northern cape