KwaZulu Natal Destinations
La Lucia, Umhlanga Coastline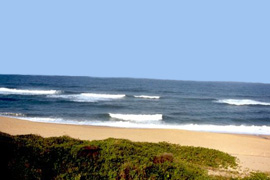 Once you've booked your La Lucia accommodation explore our pages for info on attractions and what to do in La Lucia.

The quaint town of La Lucia is situated on the beautiful Umhlanga coastline near the suburb of Umhlanga Rocks, just a short drive from the hustle bustle and excitement of the Umhlanga Coast.

La Lucia's main attraction in is its beautiful rural surroundings and immediate proximity to the major centres of the North Coast and Durban proper. As quiet and peaceful as La Lucia is, it is home to a number of amenities, features and activities that continue to draw a steady flow of visitors each year. Features like the upmarket La Lucia Mall with an extensive range of shops where almost anything can be found. Pubs, cinemas, fancy restaurants, even a gym is conveniently located inside La Lucia Mall.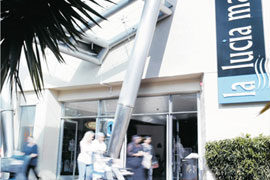 But, when people visit La Lucia, the main idea they have in mind is to unwind, kick back and take in the fabulous views of the area. The
accommodation in La Lucia
is just ideal for relaxing and distressing.
La Lucia accommodation
ranges from quiet beach cabins to bed and breakfast accommodation in La Lucia's hilly suburban area.
La Lucia's beaches are pristine and tranquil. The warm Indian Ocean flows along its coastline making activities such as snorkelling, diving, surfing and swimming ideal. Tropical fish, exotic coral reefs, fantastic waves and warm white sand is what makes La Lucia's beaches awesome and prefect for relaxing.
When you've destressed and feel like a bit of adventure, a short drive will take you to the bustling casino's and entertainment centres in Umhlanga. La Lucia has much to offer those wishing to relax. So take a break and come and unwind in La Lucia.
Get the Scoop
La Lucia Reviews

"La Lucia is pure perfection! I love the beautiful beaches, fab accommodation and great retail therapy! The attractions of Umhlanga and Durban are close enough ..." - Helen, Kearsney
Visitorials: We Love South Africa
La Lucia Visitorial

Related Links
Featured Attractions in (or near) La Lucia

Gateway Theatre of Shopping is one of Africa's largest super regional retail destinations. Features: Barnyard Theatre, Ster Kinekor cinema, Cinema Nouveau, IMAX, rock climbing wall, artificial waves, skateboard park, Woolworths, Edgars, Truworths, Game, Exclusive Books, Musica, over 30 ... more information

The only organisation of its kind in the world, the Natal Sharks Board protects beach users in KwaZulu Natal against shark attack with an extensive and effective network of shark nets that extend along 320 kilometres of coastline. The Natal Sharks Board is not only involved in preventing shark attacks, it also plays a ... more information

Umhlanga Coast Beaches
A breathtaking diversity of tropical fish and coral reefs wrap along the Umhlanga coastline, making it a perfect scuba diving and snorkelling destination. Surfers flock to Umhlanga's warm waters to make the most of some incredible surf spots. Those who crave seclusion can find many remote beaches along the coast.
Related Links
Things To Do in La Lucia

Where: La Lucia
How much (per person): Free
The warm Indian Ocean flows along the Umhlanga coastline making activities such as snorkelling, diving, surfing and swimming ideal in its wa ... more information

Where: La Lucia
How much (per person): On Request
Things are always cuter in a kiddie's size, but aprons especially. Take the kids somewhere where you can spend some quality time with them a ... more information
Related Links
On Holiday in La Lucia
• La Lucia Map
• Visitorial - I ♥ La Lucia because...
• La Lucia Accommodation
• La Lucia Hotels
• Umhlanga Coastline Accommodation
• Umhlanga Coast Hotels
• KwaZulu Natal Accommodation