Eastern Cape Destinations
Katberg, Amatola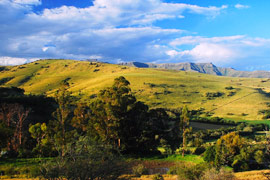 About 30 kilometres from Hogsback and close on two hours from East London, the little town of Katberg lies in enviable countryside. Citrus orchards, green lucerne fields, clear rivers and soft green valleys with forested ravines - this part of the world is clearly beautiful.

People here speak about going up the Katberg, although its grassy summits are really regarded as a section of the Winterberg Mountains. The Katberg pass, almost unfeasible in an ordinary car as the condition of the road is now really poor - rather like driving on a lawn as the road carries so little traffic that grass grows right across it - offers scenery to take your breath away at the top. Hiking in this part of the world is a way of life and the Katberg forest is the scene of several day walks lasting from one to four hours around the forest station and the Katberg Hotel. There are also the Katberg loop trail and the Katberg hiking trail, both of them fairly arduous walks.

The nearby Thrift Dam is a must for fishing fanatics. The most easterly and largest of the trout fisheries in the area, it lies on the uppermost reaches of the Black-Kei River and is stocked with rainbow trout that average two kilograms a piece. But it is the incredible lack of restriction and feeling of expansiveness that come from a holiday in the mountains that makes Katberg such a wonderful place to stay. Katberg is about breathing in fresh mountain air and enjoying the solitude of being in nature in a part of the world that remains unspoilt and beautiful in its own right.
Get the Scoop
Katberg Reviews

"The whole area of and around Katberg is just breath-taking. The scenery just never seems to end. The roads aren't always in great condition because it is quite ..." - Nadine, Polokwane
Related Links
Featured Attractions in (or near) Katberg

The annual Hogsback Arts Festival features a multitude of events and displays created by local artists who live and work in the Eastern Cape. It offers travelers the perfect opportunity to explore other cultures and interests and to rediscover nature and be inspired. The festival features music and dance, poetry ... more information

Katberg Eco Golf Estate
The 6300m par 72 course, with 4 par 3's and 4 par 5's, presents challenging but balanced golf. Under full satellite irrigation, kikuyu fairways and bent grass greens flow with the natural undulating contours of the land. The beauty of the course culminates at a waterfall between the 17th and 18th holes.
Related Links
Things To Do in Katberg

Where: Hogsback
How much (per person): On Request
A horseback ride through the breathtaking Amathole mountains and Hogsback forests is an experience to be treasured for a lifetime, and with ... more information
Related Links
On Holiday in Katberg
• Hogsback Accommodation
• Hogsback Bed and Breakfast
• Amatola Accommodation
• Amatola Bed & Breakfast
• Eastern Cape Accommodation